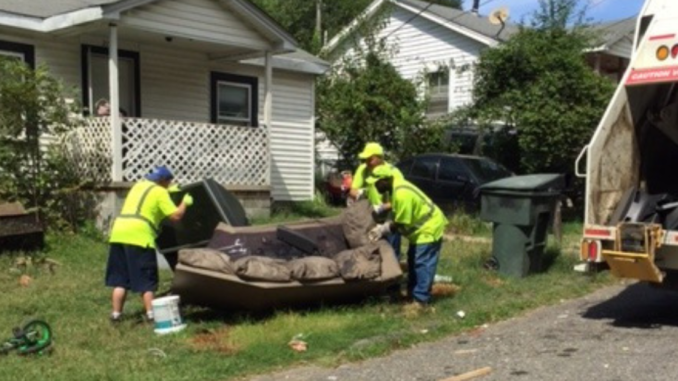 Spring cleaners and penny pinchers get a week to celebrate – and clean out their attics and closets – starting March 18. During that week, the City of Gastonia will waive its fees for hauling away many types of large or bulky items.
DeeDee Gillis, director of Gastonia's Solid Waste Division, said residents love the free week. "People tell us that they circle it on their calendars," she said. "Last March, we set a City record by collecting 397 tons of excess household trash from curbsides."
Discarded furniture and mattresses are among the more popular items the City hauls away at no charge during the free week. However, the free pickup does not apply to all unwanted items.
Even during the "free" week, the City will still charge a fee to collect any appliances such as TVs, computers, washers, dryers, water heaters and refrigerators. "Anything with an electrical cord, there is a $25 charge per appliance," Gillis said. During the free week, the City will also charge a fee to haul away car and truck tires. Gillis said appliances, tires and rims cannot be put directly into the landfill, which is why the City cannot waive the fees for those items.
Year-round, City crews do not collect or dispose of:
Automobile or engine parts, including batteries
Dirt, rocks, bricks, ceramic tile
Liquids, poisons or explosives
Paint cans that contain wet paint
The City will collect paint cans that have kitty litter or sand inside to dry up the paint. Residents who want to know if particular item will be collected at no charge should call the City's Solid Waste customer service office at 704-866-6774.
Customers should put eligible household trash at the curb the evening before their regular pickup day. Gillis said a fee may be charged if large items are placed at the curb too early. There will be no yard waste collection the week of March 18.
The City offers Free Household Trash Week twice each year, typically near the first day of spring and first day of autumn. In the past five years, the total amount of excess trash collected during those free weeks tops 3,000 tons, which is equal to the weight of 450 elephants.
The "free" week does cost the City. During the free week in September 2018, the City paid an extra $9,405 in landfill fees and $6,234 in employee overtime to handle residents' excess trash.