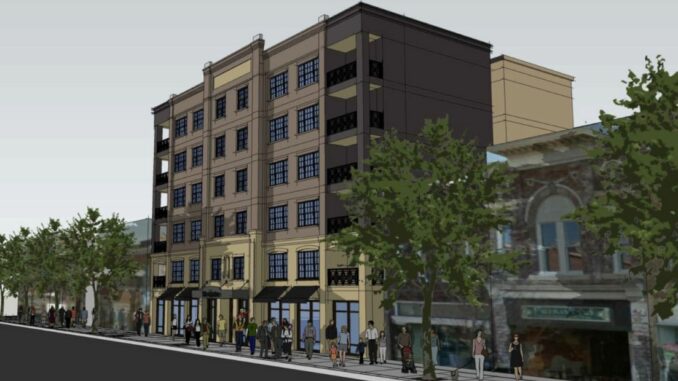 A development company has unveiled plans for a new Downtown residential complex that they say will change the face of Gastonia's center city. Representatives of Kuester Development, a Fort Mill, SC, development company, presented plans for a seven-story, mixed-use development with 90 residential units during a Central City Revitalization and Housing Committee meeting on July 10. The proposed development, called Center City Crossings, is slated for construction at 147 W. Main Avenue, property owned by the City of Gastonia and the current location of the Center City Park.
The Central City Revitalization and Housing Committee, a subcommittee of City Council composed of council members Chairman Todd Pierceall, Jennifer Stepp and Robert Kellogg, Jr., voted unanimously to have the plans presented to the full Council for further study and action. Mayor Walker Reid III and Council Member David Humphries also attended the committee meeting.
The committee also heard plans from City staff about the potential expansion and renovation of the area around the Rotary Pavilion to include additional grassy areas, plantings and artwork. Plans were also presented for other green space areas that could be developed Downtown, including a proposed dog park near the Bradley bus station.
City Council will review Kuester's plans at the Council's Tuesday, Aug. 6 meeting. A public hearing will be scheduled for public comment prior to a Council decision on a potential consideration of a development agreement with Kuester.
See Kuester Development's presentation to the City Council committee.