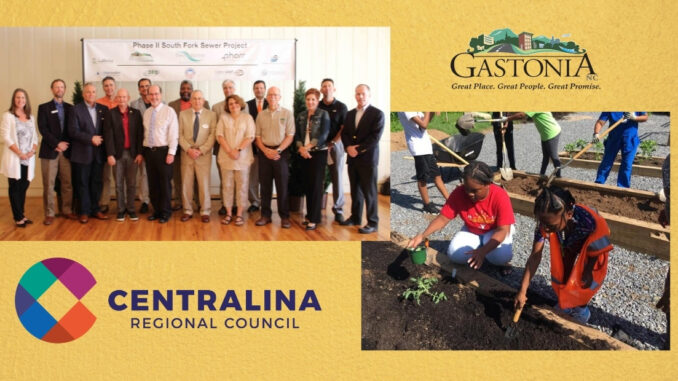 The City of Gastonia has received two 2020 Region of Excellence Awards from the Centralina Regional Council recognizing outstanding achievement in two categories. The awards were given to the City's Public Utilities Department and the Community Services Department for programs impacting local and regional communities.
The awards recognize outstanding achievements in support of Centralina's mission to expand opportunity and improve quality of life. Local governments are asked to nominate an innovative project, program, plan or individual that has contributed to significant and positive advancements in the regional community. An independent panel of judges reviews and selects winners across several categories.
"It is an honor to receive these awards that demonstrate our commitment to our citizens, our neighboring communities, and utility customers who depend on us to provide innovative and thoughtful solutions that have a positive impact into the future," said City Manager Michael Peoples.
The City of Gastonia received awards in two categories:
The Cross-Community Collaboration award is given for actively engaging neighboring counties and/or municipalities to develop or implement an innovative project, program or plan.

The South Fork Sewer Regional Utility Consolidation Project eliminated antiquated wastewater infrastructure at multiple Gaston County sewer utilities, improved water quality in the Catawba River Basin, and increased development by providing sewer services to a large undeveloped area. The City of Gastonia's Two Rivers Utilities orchestrated this 12-year effort, which involved eight regional partners.
By eliminating antiquated sewer infrastructure and rerouting sewer flow to an underutilized facility equipped with the most advanced level of treatment in Gaston County, the quality of treated water returned to the Catawba River Basin has been improved.

Each partner utility has lowered its cost burden, and limited the future cost of service for rate payers.
An undeveloped 335-acre area is ripe for economic development, as it can now be served by sewer and is in close proximity to the interstate. An upscale mixed-use development is in the planning stages for an area along the South Fork River.
By designating easement for future needs, the project sets the stage for additional sewer utility consolidation in Gaston County.
The Improving Quality of Life award is given for developing or implementing a project, program or plan that enhances the quality of life in their community.

The City of Gastonia, Kintegra Health, and Gaston County DHHS have worked extensively with community partners for several years in the Highland Community of Gastonia. The work came together with the formation of a Highland Neighborhood Association to help reduce obesity in this community.
The City invested more than $1.5 million dollars to improve lighting, sidewalks, high visibility crosswalks, park facilities, building affordable housing, donating land for a community garden, removing blight, and providing civic engagement opportunities.