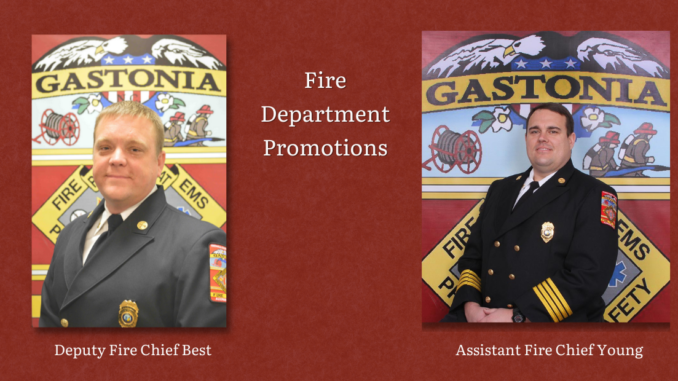 The City of Gastonia has announced the promotions of two senior-level fire officers to fill vacancies in the Gastonia Fire Department. Assistant Chief Brad Best has been promoted to the position of Deputy Fire Chief and Matthew Young has been promoted to the position of Assistant Fire Chief.
Brad Best replaces William Warren, who retired from the GFD on November 30. Best has been with the Gastonia Fire Department for 21 years and most recently served as the Assistant Chief/Emergency Manager. As Deputy Fire Chief, Best will oversee the department's operations and training divisions.
Matthew Young is a 19-year veteran of the Gastonia Fire Department and has most recently served as a Battalion Chief and Hazmat Coordinator for the Department. As Assistant Fire Chief, Young will be responsible for emergency management within the City, the Life Safety Division, the department's budget, and GFD's hiring, recruitment, and promotional processes. He was selected to fill Best's previous position.
"Both Deputy Chief Best and Assistant Chief Young will do an excellent job in their new positions as we continue to serve the residents of the City of Gastonia," Gastonia Fire Chief Phil Welch said. Both promotions are the result of recent retirements.
The Gastonia Fire Department has 143 full-time employees and eight fire stations. The Department responded to 10,176 calls for service in 2020.