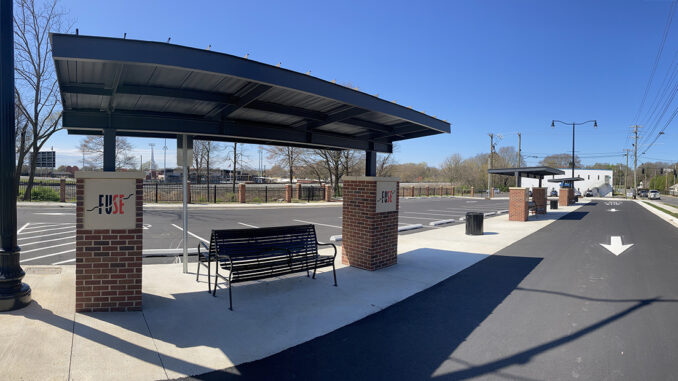 The City of Gastonia will host a ribbon-cutting ceremony to mark the completion of a new bus transfer station in the FUSE District on Tuesday, April 19 at 4:30 p.m. The event will be held at 715 W. Airline Avenue in the City's Franklin Urban Sports & Entertainment District.
"We realized that residents needed another route to access the FUSE District, which is located on the west side of the City," said Cindy Forrester, Division Manager of Fleet Services. "This addition to the transit schedule makes it more convenient and efficient for residents who want to get to that side of the city."
The new transit station features three covered bays with benches for secure boarding and alighting the bus.  The new station provides parking spaces for passengers that choose to park and ride and utilize the Gastonia transit bus line.
"We are excited to offer more options to our residents who want to frequent the Downtown area and the FUSE District," said Mayor Walker E. Reid. "Our city is a great place to live, work, and play."
The station will be added as a stop to the Yellow Line bus route in June and will allow riders to take advantage of shopping, dining, and business trips in the FUSE District and Downtown as well as events at the CaroMont Health Park.