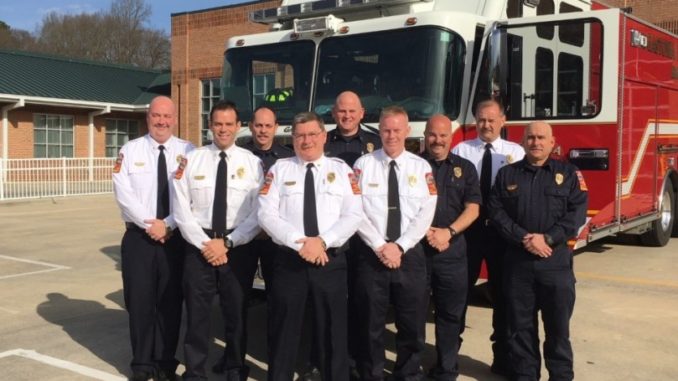 The state has awarded the Gastonia Fire Department an improved fire protection rating, boosting Gastonia to among the top 2 percent in North Carolina and the top 3 percent in the United States. The new rating could help lower insurance premiums on business and commercial properties in Gastonia starting in June.
Fire departments with the best scores are considered well prepared to respond to fires. The Gastonia Fire Department's fire insurance classification, sometimes called Insurance Service Office rating or ISO, improved to a Class 2. Gastonia had been rated a Class 3 for the past 23 years. Classifications range from 1 (the best) to 10, and the ISO is one of the primary elements used by the insurance industry to calculate premiums. Of the 1,533 fire districts in North Carolina, only 28 earned a Class 1 or a 2.
Gastonia's designation was announced by the North Carolina Department of Insurance and the Office of the State Fire Marshal. During their routine inspection, state officials considered the fire department's staffing levels, training, fire trucks and firefighting equipment, fire hydrant locations, adequate water flow and emergency communications capabilities.
"I am proud to say we live in a City that takes our public safety very seriously," said Gastonia Mayor Walker Reid. "That includes fire protection as well as police protection."
Better insurance rates for property owners
Mayor Reid and State Fire Marshal Mike Causey both congratulated Gastonia Fire Chief Phil Welch and the City's fire department for achieving the Class 2 rating. Reid praised the Gastonia Fire Department for its "certification status and its professionalism." Causey added, "The citizens of Gastonia should rest easy knowing they have a fine group of firefighters protecting them and their property in case of an emergency."
Chief Welch commended the City's 143 firefighters for what he called "the dedicated, exceptional service they provide every day." Welch also noted that the Gastonia Fire Department is one of only 21 fire departments in North Carolina that is internationally accredited by The Commission on Fire Accreditation International.
Gastonia's improved fire insurance classification is likely to reduce insurance premiums for commercial property owners. Residential property owners in Gastonia already receive the best rating allowed by the ISO. Mayor Reid, who worked in the fire service for more than 32 years, emphasized how important the new classification is for both the City and its residents. "I personally understand the benefit of having a certified fire department and having lower insurance rates for residents and business people," Reid said. "Our improved rating can also help attract new businesses and development to Gastonia."
The state will notify insurance companies of the change in the Gastonia Fire Department's ISO rating, which takes effect June 1.