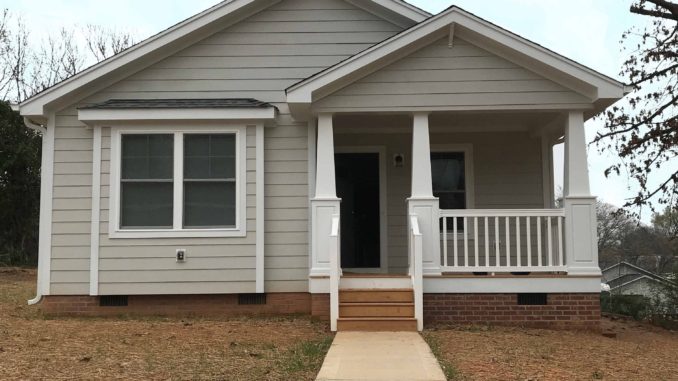 The City of Gastonia is building three homes in the Highland community through the Community Development Block Grant (CDBG) and HOME Investment Partnership Programs. An open house for the first of the three homes to be completed will be held from 4 – 6 p.m. Tuesday, March 13 at 108 W. Bradley St.
One of the national objectives of the CDBG and HOME programs is to assist low/moderate income families in communities. One way of doing this is to work on providing safe and affordable housing to residents.
"With our project in Highland, we are not only able to provide affordable housing, but we are also working to provide much needed infill development to the community," said Vincent Wong, the City of Gastonia's Community Development & Innovation director. "We believe this will show the residents in Highland that the City is committed to restoring viable housing options that the entire community and city can be proud of."
In the past two years, $1.5 million in federal money has been invested in the Highland community through the CDBG and HOME programs. The City's Housing and Neighborhoods department partners with the Highland Neighborhood Association and the Community Centered Health Gaston Collaborative to identify needed improvements in the community. In addition to building three homes, other projects that have been completed include public infrastructure improvements, LED-light conversion for street lights, and high-visibility crosswalks. Funding also was provided for the Erwin Center Splash Park.
"We hope to show residents that we care and want to be an active partner with them to improve our city," Wong said. "We strongly believe when people feel safe and are walking about the community, it benefits citizens' physical health, and helps to address littering concerns and other safety issues. We look forward to continuing this partnership through other projects in the near future."
Other projects include the Highland Youth Garden, and sidewalk and other possible improvements at the Erwin Center. Anyone interested in applying to become a homeowner of one of the two remaining homes to be built can call Juliann Lehman or Nancy Welch at 704-869-1938.