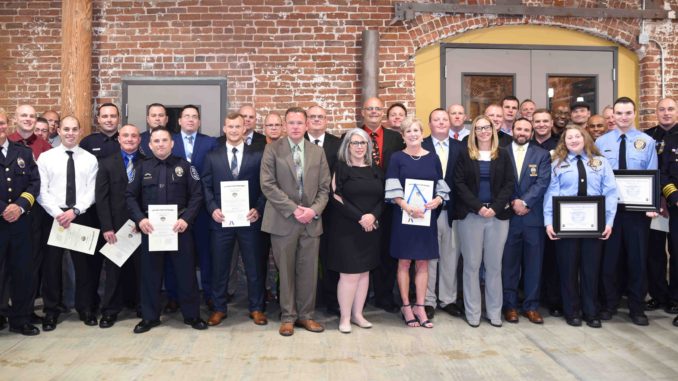 Sixty-three officers, civilian employees and volunteers were recognized in the Gastonia Police Department's Recognition of Excellence awards program on Thursday, May 10 at the Loray Mill Event Hall. Top awards include three Lifesaving medals, one Officer of the Year Award, and five Officer of the Year Honorable Mentions. This event was made possible by generous donations from Homesteads Grill and Taphouse, and the Gastonia Police Foundation.
"Our officers, civilian employees and volunteers make a great difference in our community, and it is our privilege to recognize those who have raised the banner of excellence for us all," said Gastonia Police Chief Rob Helton.
Lifesaving medals went to Officers Josh Wood, Jesse Yager and Heath Stanley. Josh Wood was assisting detectives with an investigation when he discovered an unresponsive occupant at a residence. He performed CPR and saved a man's life. Yager administered emergency first aid to a shooting victim with a chest wound, which allowed the victim to breathe. Stanley performed the Heimlich maneuver and saved a 12-year-old boy from choking on food.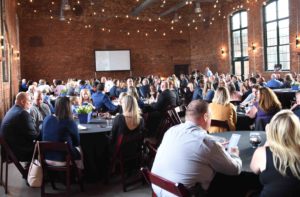 Detective Clint Bridges was named Officer of the Year for his exceptional performance above and beyond the call of duty representing the GPD in a multijurisdictional federal taskforce. Bridges has served as a Task Force Officer (TFO) with the Drug Enforcement Administration's (DEA) High Intensity Drug Trafficking Areas (HIDTA) since 2013. Bridges has developed and participated in numerous Organized Crime Drug Enforcement Task Forces (OCDETF), some Racketeer Influenced and Corrupt Organizations (RICO) that have resulted in substantial drug and money seizures.
"Detective Bridges has personally been involved in seizing hundreds of pounds of heroin, meth, and cocaine," said Criminal Investigations Division Capt. Ed Turas, who serves as chairman of GPD's awards committee. "Detective Bridges also has been involved with seizing millions of dollars of drug money through asset forfeitures, which contributes to the disruption, dismantling and destruction of major Drug Trafficking Organizations."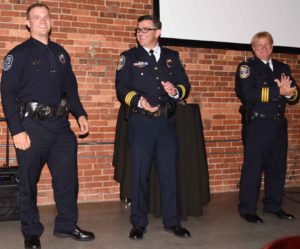 Officer of the Year (Honorable Mentions) went to Detective Jim Bliss, Officer Mike Lewis, Detectives Heather Houser and Adam Wilson, and Officer Heath Stanley.
Bliss and Lewis were honored in the NC Auto Dealers Association's Hometown Heroes Program: Bliss for working a high volume of complex fraud cases involving multiple jurisdictions. He worked 155 fraud cases last year, works with the Department of Homeland Security, the U.S. Postal Service, National Insurance Crime Bureau, and is a U.S. Postal and U.S. Secret Service TFO. Lewis was involved in a high speed, high risk pursuit of a Georgia murder suspect in which shots were fired at the officers. Lewis is a K-9 officer with outstanding leadership in volunteer work and K-9 work.
Houser and Wilson are the only two officers from North Carolina to be recognized with the National Association of Police Organization's Top Cops Award (Honorable Mention). The recognition is for their work in a human trafficking case involving a violent and dangerous offender. The case was adopted by the FBI and has become a template for victim assistance, case development and investigation.
Stanley performed a life-saving action to save a boy's life. He also demonstrates a positive work ethic and commendable customer service.
Other awards were:
Chief's Achievement Award – Sgt. Scott Norton and Sgt. Jonathan Scher. Norton was recognized for being a key figure in raising monies and awareness for the Special Olympics North Carolina in 2017. He set a record for the GPD in the amount raised for SONC, which was $9,856.25, and a No Shave November fundraiser had 92 participants.
Scher was a key figure in the implementation, policy development, training and management of the GPD's Body Worn Camera program. This involves 124 cameras in operation.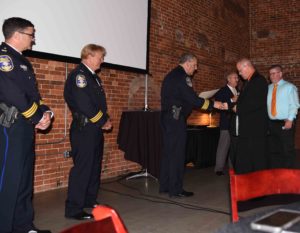 Unit Meritorious Service Award – Sgt. Eric Wiggins, Detective Morris Elliott and Detective Mike Watts. Wiggins and Elliott were honored for outstanding performance in the recruitment and management of candidates and new hires. There were 125 new hires in four years while they were also conducting internal administrative investigations.
Watts has demonstrated outstanding performance in his division in cell phone extractions, assisting others with case development and intelligence gathering, and enhancing overall the performance of the Criminal Investigations Division. He is an FBI Violent Crimes TFO.
Commendations
Nancy Capistran, Chris Waldroup, Kevin Putnam, Detective Heather Houser, and Officers Heath Stanley, Jordan Goins and Jess Loftin for substantial support for human trafficking victim assistance and recovery, conducting investigations to locate the victim and obtain crucial evidence for the prosecution of Gastonia's first human trafficking case.
Jamin Brackett and Detectives Jonas Hansen, Phillip Smith, Jason Harris and Jordan Reese for outstanding work in fingerprint identifications. There were 266 identifications made in 2017, which is a 300 percent increase compared to 2016.

Officer Ewers and Assistant Chiefs Brittain and Smith

Officer Jarod Ewers for his handling of a suspected DWI traffic accident. Ewers recognized that the driver's violent behavior was not due to impairment, but rather a medical emergency which was later identified as brain cancer (stage IV). The victim received medical treatment to extend his life allowing more time to be with his family.
Pat Spiker and Laura Biggerstaff, and Officers Josh LaFevers, Jason Beaver, Holden Prater, Harrison Hamorsky, Gregory Tucker, Brandon Broome, Brad Bumgardner, Adam Hudson and Brian DiYorio for their work with the assistance of CMPD air support and a York County bloodhound to relentlessly canvas the city and the Bessemer City area for hours for a 76-year-old woman who had dementia. She had been reported missing after having been dropped off in the area by a taxi from Charlotte. The elderly woman was lightly clothed, had no shoes, the temperature was freezing. She was found unresponsive, but alive. Due to a great team effort she is still alive today.
Officers David Guerin, Justin Padgett, Brad Bumgardner, William Payne, Seth Canipe, Anthony Johnson, Jeff Loftin, Jason Gill, Alex Burns, Caleb Price, Jesse Yager and Mike Lewis for their response to a shots fired call, which ended up being a homicide. They apprehended three of the four suspects while being involved in a foot chase and pursuing a fleeing vehicle. During the stop of the vehicle, the officers found the victim and rendered CPR. During this confusing melee they were able to secure evidence significant to the investigation.
Officers Zach Williams and Craig Lowrance. While investigation a public nuisance call, officers offered aid and assistance to a homeless subject and took him to get food rather than pursue enforcement. Their actions were not reported by themselves or others, rather they were seen during body camera reviews. They demonstrated kindness without expectation of praise or reward.
Chief's Honorable Mention
Sgt. Scott Norton and Officer Amy Hawkins for safety training for houses of worship.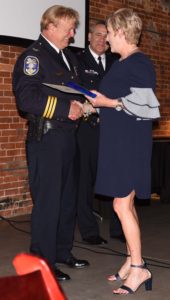 Civilian of the Year
Police Records Supervisor Janet Griffin for outstanding Records Bureau leadership and customer service. She trains, guides and directs personnel and operations to include court documentation, case and personnel management, and communications, including quality control. She serves as GPD's coordinator for the FBI's National Crime Information Center (NCIC) and the N.C. SBI's Division of Criminal Information (DCI). In addition, her responsibilities include serving as a liaison to local, state and federal agencies, and oversight of tele-service, revenues collections, validations of guns, vehicles, missing persons, runaways, and maintenance of permits and domestic violence orders.
Citizens on Patrol (COP) of the Year
Doug Carpenter and Don Brittain for their volunteer efforts to support agency operations and provide citizen security and assistance.
Explorer of the Year
William Linkous and Jenna Hollifield for outstanding participation in activities and volunteer work.
Educational Achievement Awards
Detective Adam Wilson for obtaining his master's degree.
Emily Burr for obtaining her associate's degree.
Military Service Award
Trent Michaels and Alex Koeppel-Calzada for service with the U.S. Army.