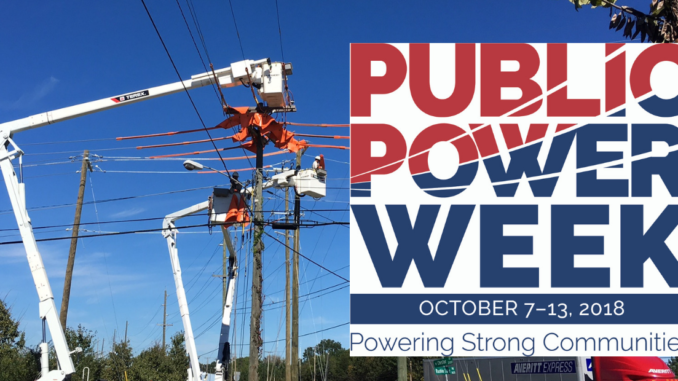 Gastonia and its community-owned Electric division are celebrating Public Power Week Oct. 7-13. The City has operated its not-for-profit Electric division since 1900 and is one of more than 70 public power communities across North Carolina.
"We take tremendous pride in being a public power provider and serving our local community," said Joe Albright, Gastonia's Public Utilities director. "Our local utility workers respond quickly to outages and our customer service team is known for providing knowledgeable and friendly service."
As part of national Public Power Week, Electric division staff will take part in the Cotton Ginning Days on Saturday, Oct. 13 at Biggerstaff Park in Dallas. The Town of Dallas and City of Kings Mountain, also public power communities, will join Gastonia at the event. Electric crews will perform pole-top rescue demonstrations and will have equipment on display. Energy efficiency kits will be available as well as fun activities for kids.
According to ElectriCities of North Carolina, public power providers consistently out-perform investor-owned utilities in reliability and customer satisfaction. Public power customers experience fewer outages and their electricity is restored more quickly. Albright points to recent power interruptions in Gastonia caused by Hurricane Florence. "As a hometown utility, we always have the best interest of local residents at heart," he said. "The work of our crews to restore power quickly during the recent storm is a hallmark of being a public power provider."
The City of Gastonia's Electric division has more than 28,500 customers and a system of 473 miles of distribution lines and 11 substations. Gastonia is one of 24 utilities in North Carolina recognized by the American Public Power Association as a Reliable Public Power Provider or "RP3," for meeting outstanding reliability and service standards.