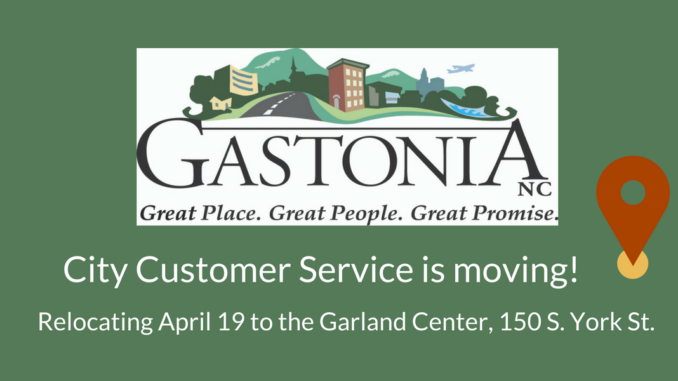 City of Gastonia customers will go to a different location starting next week for in-person assistance to make specific types of City payments, set up City services or inquire about City services and billing. The City's Customer Service office is moving from City Hall to the James B. Garland Municipal Business Center next door, beginning April 17. The move will affect an estimated 300 walk-in customers each week.
"This is all about customer convenience," said Susan Kluttz, Gastonia's revenue administrator. "The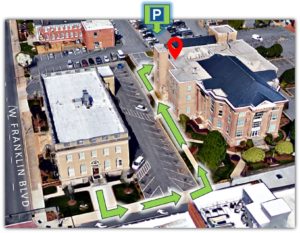 Garland Center has more parking spaces and already is serving customers who come in for building permits, construction inspections and similar services. We are consolidating customer service in one location."
When the move is completed on April 19, City Customer Service will be located on the first floor of the Garland Center at 150 S. York St. The Garland Center is next door to City Hall, although City Hall has a South Street address. The parking lot entrance for the Garland Center is on York Street between Franklin Boulevard and Main Avenue.
Customers will need to go to the Garland Center if they want to make in-person payments to the City including:
The Garland Center already houses the City's Development Services offices, including land-use Planning, Zoning, Engineering, Land Development, Construction Inspections, Housing & Neighborhoods, and Economic Development.
After April 19, no customer payments or financial deposits of any type will be accepted at City Hall. The types of services offered by City Customer Service will not change with the move. The phone number for City Customer Service remains 704-866-6714. The email address for billing questions, billing@cityofgastonia.com, also will not change.
The City stopped accepting in-person payments on monthly utility bills in 2011, and that policy will not change with the move. A secure drop box for paying monthly utility bills is in the Garland Center parking lot across from the Post Office. Other options for paying monthly Utility bills include mail, kiosks, automated bank draft, cityofgastonia.com or the automated customer service line at 704-866-6716.