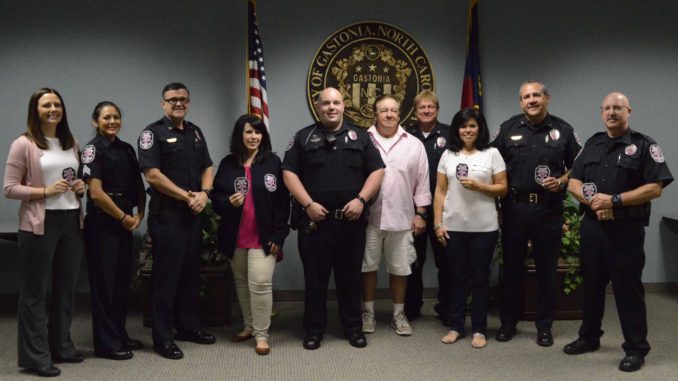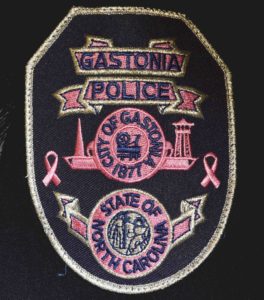 Gastonia Police and Fire Departments have fundraisers underway for October, Breast Cancer Awareness Month.
The Gastonia Police Sergeants Association is selling pink patches for $5, and the Gastonia Fire Department is selling "Firefighters for a Cure" T-shirts for $10 or $12 depending on the size. Proceeds from both fundraisers will benefit Cancer Services of Gaston County, a nonprofit that serves residents of Gaston County who have been diagnosed with cancer.
"One out of eight women will be diagnosed with breast cancer," said Kim Elmore with Cancer Services of Gaston County. "We're here to help not only the cancer victim, but also the caregivers and the families. When somebody is going through this it means a lot to know there are other people out there pulling for them, wanting to help because you can feel alone. To know people care makes all the difference in the world."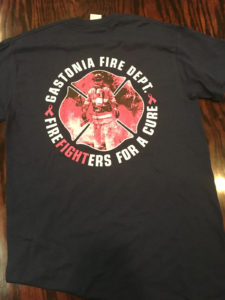 The GPD family has seen a number of former employees or retirees diagnosed with cancer and has featured some on the Gastonia Police Department's Facebook page. Leigh Anne Price worked as a GPD officer and detective from 1987 – 1995, and then went to work as a fraud investigator at Wachovia. She died 18 months after being diagnosed with breast cancer. "I was 11 when we first found out," said her son, Caleb Price, a GPD officer for six years and son of Jack Price, a retired GPD officer and detective. "After the first surgery they said they got it all. It came back more aggressively the second time."
Retired GPD Sgt. Tracy Bess modeled the pink patches and badge in a picture recently on the GPD's Facebook page. Later Tracy shared a picture of herself with her hair growing back after successful treatment. She will join about 20 GPD employees who are participating with #TeamMolly, WBTV's Molly Grantham's team in the Susan G. Komen Charlotte "Race for the Cure." The 5K and 1-mile Fun Run will be held Saturday, Oct. 6, at 2316 Randolph Road, Charlotte, with registration starting at 6:30 a.m. and the event at 7:45 a.m. Anyone who'd like to participate can contact GPD Records Supervisor Janet Griffin at 704-866-6953. Or donate online at komencharlotte.org.
The sale of pink badges, which is available only for police department employees, is also part of the effort. If you are interested in a pink patch or badge you may call Sgt. Nancy Capistran at 704-866-6884.
"Firefighters for a Cure" T-shirts are for sale at Station 1, located at 260 N. Myrtle School Road, and Cancer Services offices located at 306 S. Columbia Street, Gastonia, during regular business hours. Prices are $10 for Small – XL and $12 for larger sizes. Questions? Please call 704-866-6806.