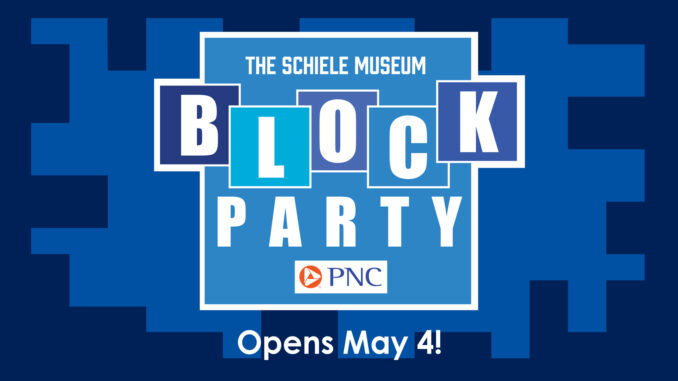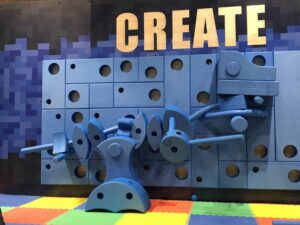 The Schiele Museum of Natural History is excited to announce a new exhibit opening on Saturday, May 4. Designed specifically for young children, the Block Party exhibit will be an interactive play space that promotes cognitive and social development. Young architects will have access to thousands of building blocks and connectors of all shapes and sizes, providing them with the opportunity to bring their imaginations to life.
Supported by a grant from the PNC Foundation, Block Party encourages learning, social development, movement, and fun in an interactive setting. The exhibit offers a creative space for children to learn and play while also establishing the foundations for STEAM (Science, Technology, Engineering, Art, Math) concepts. The grant was awarded as part of the PNC Grow Up Great initiative to help prepare children from birth to age 5 for success in school and life.
"Block Party is opening some new doors for us. We're really excited about this opportunity to expand the exhibit offerings of The Schiele to include an experience designed specifically for young learners," commented Tony Pasour, Head of Interpretation at The Schiele. "This opportunity for open-ended, hands-on learning will be quite a departure from our typical featured exhibits, and I believe young children and their families are really going to enjoy this new experience."
The PNC Foundation and The Schiele Museum are delighted to provide the community with an opportunity for children to develop problem-solving skills, self-esteem, creativity, and foundational science and mathematics concepts. The Block Party exhibit will introduce children to STEAM concepts through block play, which is believed to positively influence social and emotional growth.
The Schiele will kick off the exhibit opening with the Building Block Bonanza on May 4th from 10 a.m. – 4 p.m.. Interactive games and challenges will be available during this exhibit opening to showcase additional ways that children can learn while playing. A special building block item will be included with general admission while supplies last (limit one per family). For more information on the Block Party Bonanza and the Block Party exhibit, please visit our website at www.schielemuseum.org.