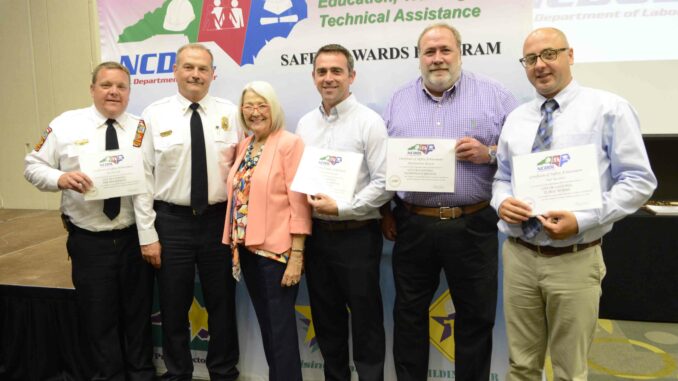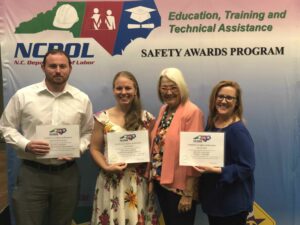 The N.C. Department of Labor recognized area employers and employees at the agency's annual safety awards banquet in Gastonia on June 18. The event was co-sponsored by the Gaston Regional Chamber.
"It's really an honor for me to travel throughout the state and recognize these employers who are making a commitment to their employees' safety and health," said Labor Commissioner Cherie Berry, who spoke at the banquet and presented the awards. "Over the years, North Carolina has experienced a declining injury and illness rate, which now rests at an all-time low 2.3 per 100 full-time workers for private industry. These employers continue to make North Carolina workplaces some of the safest in the country."
The awards honor outstanding on-the-job safety achievements of each recipient during 2018. The City of Gastonia has eight departments/divisions that qualified for the gold award and two departments that qualified for the silver award which are:
The Gold Award
City Management and Support Staff – (City Manager's Office, Legal, HR, Communications & Marketing)
Schiele Museum
Wastewater Treatment Division
Water Treatment Division
Community Services
Fire Department
Development Services (Economic Development included)
Technology Services
Silver Award
Public Utilities
Public Works
Under program rules, companies must have been free of fatal accidents at the site for which the award is given to be eligible. The gold award criteria are based on a DART rate that is at least 50 percent below the statewide rate for its industry. The rate includes cases of days away from work, restricted activity or job transfer. The silver award is based only on cases with days away from work and an incidents rate for cases that is at least 50 percent below the rate for its industry.
Other recipients awarded at the banquet are located in Belmont, Bessemer City, Charlotte, Cherryville, Dallas, Kings Mountain, Lowell, McAdenville, Mt. Holly and Stanley.