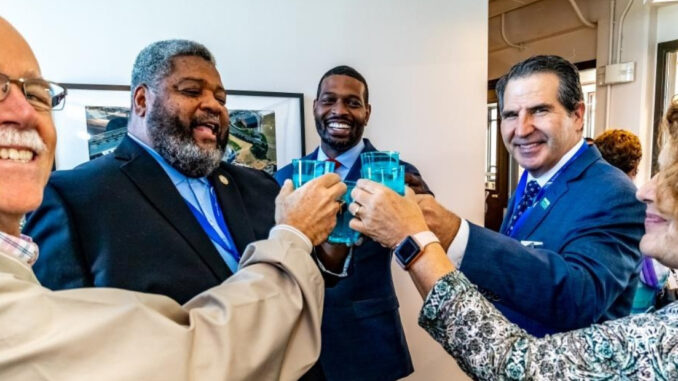 Nearly 100 employees, city, county and state officials, and members of the media gathered at the Two Rivers Utilities Water Treatment Plant on Friday, Oct. 11. The celebration marked the dedication of the plant, wrapping up a $65 million renovation project that guarantees clean, safe drinking water for a growing community for at least the next 50 years.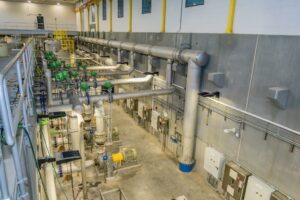 Imagine using millions of tiny drinking-straw-like membranes to filter impurities from lake water, converting it into clean, fresh drinking water without relying on heat or chemicals. That's what's happening now at the newly updated plant – and it's the first municipal water treatment facility in the state to use this high-tech membrane filtration system as its primary purification method.
"Membrane technology had only been allowed in North Carolina as a secondary treatment system," said Ed Cross, Division Manager, Two Rivers Utilities. "But many industries, from health care to aerospace, already use membrane filtration to purify liquids and fuels, and we knew it was a great option. We analyzed the science, took our case to Raleigh, and the state allowed us to move forward with this project."
Membrane filtration is a complex and microscopic process that really is similar to millions of tiny straws straining out impurities from lake water. Water molecules pass through the membrane filters, but bacteria and similar organisms can't get through because the openings are too small.
"This is a water mark in our community's history," said Cross, speaking at the dedication ceremony. "We can now treat five billion gallons of water a year, and the improvements at the plant raise the level of safety and quality of our water. We're more efficient – we are using less energy to treat more water."
See the video about Gastonia' water plant and membrane filtration shown at the dedication ceremony.
The renovated plant is built on the site of Gastonia's first water treatment plant, which opened in 1922 and used sand filtration and chlorine to treat one million gallons of water a day. Over the decades, demand for water grew faster than the City's population, in part because of  local textile mills.
The plant started having challenges with capacity in 1995 when some of the original equipment started to fail. City leaders first started talking about the upgrade project in the early 2000s, with detailed planning starting in 2010. Crews broke ground on the four-million-gallon clearwell in 2015 and the project wrapped up this year.
"We had five major goals with this project," Cross said. "We needed to recover our capacity, ensure the facility could function and grow for 50 years in the future, safeguard public health, focus on employee safety and address the environment and conservation."
The $65 million modernization also made the Gastonia plant more efficient – using less energy and wasting less water. The investment was totally fee-funded, not tax-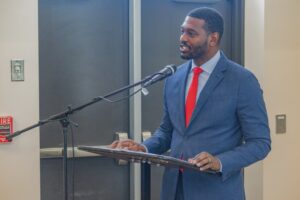 funded, including a no-interest loan from the state that saved Two Rivers Utilities' customers $18 million.
"We are extremely proud to be a partner in this project and provide support to our municipalities," said Michael Regan, Secretary of the N.C. Department of Environmental Quality. "Our department is responsible for providing over $35 million in interest-free loans for this project. And we don't give these loans to just anyone – it's just the best of the best – like here in Gastonia."
The Two Rivers Utilities plant treats five billion gallons of water each year from Mountain Island Lake. That water goes to 100,000 residential and business customers in Gastonia, Cramerton, Lowell, McAdenville, Ranlo, and Clover, South Carolina. The plant also provides emergency water service for Belmont, Dallas and Bessemer City.