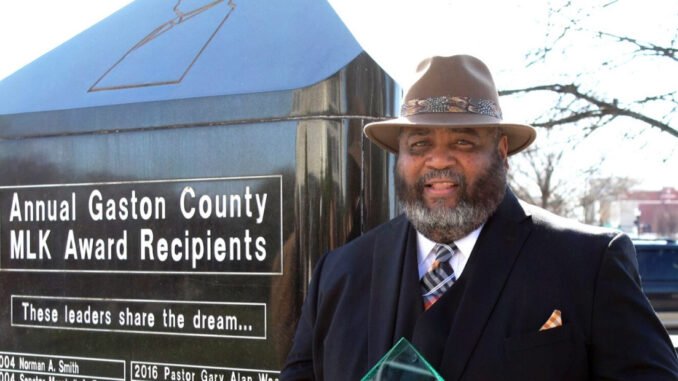 Gastonia Mayor Walker E. Reid is one of three recipients of the 2020 Gaston County MLK Unity Award. The honor was presented today by Gaston Together and its Gaston Clergy & Citizens Coalition (GC3).
In addition to Mayor Reid, this year's MLK Unity Awards were given to veterinarian Dr. Mark E. Epstein and community volunteer John Weisenhorn, both residents of Gastonia.
Mayor Reid was recognized for a lifetime of fostering racial harmony through music, youth engagement and service to people in need. Dr. Epstein was praised for his work with the Gaston Interfaith Trialogue and Gaston County's Better Angels Program. Deacon Weisenhorn was recognized for his ongoing efforts with faith and charitable organizations and with prison ministries.
In his remarks at the Jan. 20 awards ceremony, Mayor Reid stated that his life of service to the community was inspired by Dr. King's life and work. Reid recited his favorite quote of Dr. King: "The time is always right to do the right thing." And the mayor thanked the community for its encouragement and support.
The awards presentation was part of an annual event held on the Dr. Martin Luther King, Jr. holiday, during which the GC3 recognizes what it calls "the dream of Dr. King for all."
The Gaston County MLK Unity Award was established in 2004 by the GC3. According to the organization, the award recognizes current or former Gaston County residents who have "performed exemplary community service to help build bridges of unity across lines of class, race, gender, faith and/or municipalities" within Gaston County.
Names of those honored are engraved on the MLK Monument located at the corner of E. Long Avenue and Dr. Martin Luther King Jr. Way in Gastonia, under the saying "These leaders share the dream."