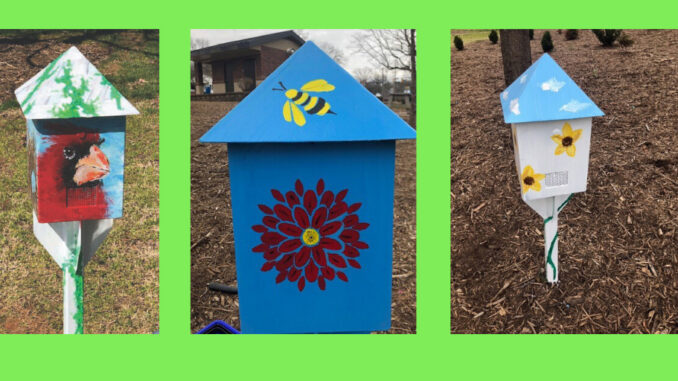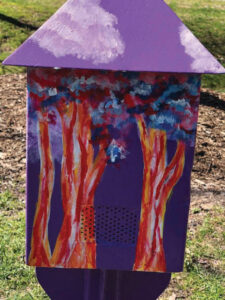 Need some fun at the park with the kids? Check out Gastonia's refreshed "Talking Trees Trail" at Lineberger Park. Along the trail, which is accessible from the park's South Chestnut Street parking lot, are 10 boxes with audio recordings about nearby trees.
The boxes or "Talking Trees" were recently painted with unique artwork selected through an Arbor Day Contest sponsored by Keep Gastonia Beautiful. A ribbon cutting and unveiling of the updated trail was originally planned for March 20 for the Keep Gastonia Beautiful Arbor Day Celebration, but was cancelled as part of efforts to prevent spreading of the coronavirus (COVID-19) through groups larger than 49 people.
In a City of Gastonia proclamation approved during the March 17 City Council meeting, citizens are urged to celebrate Arbor Day on March 20 by supporting efforts to protect trees and woodlands. Citizens are encouraged to plant trees in Gastonia for future generations. The City of Gastonia also has been named Tree City USA for the 19th year.
"Taking some time to visit our 'Talking Trees Trail' with the family is a great way to celebrate Arbor Day," said Keep Gastonia Beautiful Administrator Juliann Lehman. "We are proud of all the new artwork installed there."
Arbor Day started in 1872 with J. Sterling Morton proposing to the Nebraska Board of Agriculture that a special day be set aside for the planting of trees. Arbor Day was first observed with the planting of more than one million trees in Nebraska. The year 2020 is the 148th anniversary of Arbor Day, which is observed throughout the nation and the world.