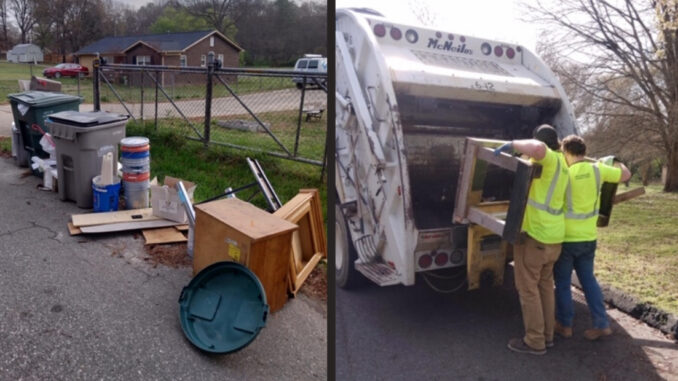 Gastonia residents set another record for the amount of household trash put at the curb during the City's recent Free Excess Household Trash Week. The City's Solid Waste Division collected 475 tons of trash March 16-20. That surpasses the previous free-week record, set last September, by 8 tons.
Solid Waste Director DeeDee Gillis reports only about 10% of the discarded items were picked up using automated trucks and hydraulic lifts. About 90% of the discarded items had to be collected by hand, a task done by 30 City employees. With nearly 950,000 pounds of stuff piled curbside throughout the City, each of those 30 employees picked up an average of 31,631 pounds during the five-day period. "It was during that week that the County shut down fitness centers because of the coronavirus outbreak," Gillis noted. "But our employees were still able to do plenty of weightlifting!" The 30 employees do not include those driving City Solid Waste vehicles.
The City has offered the free week twice a year since 2013. The weight of the discarded items collected in March 2020 is 83% more than the amount collected seven years ago.