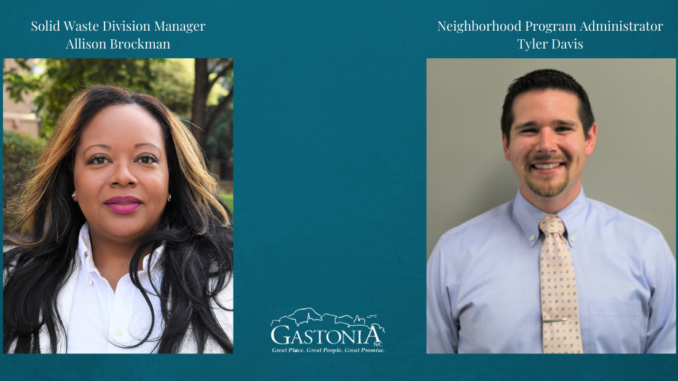 The City of Gastonia has hired a new division manager of Solid Waste and promoted an employee to Neighborhood Program Administrator, a new position in the city. "We are excited to welcome two very competent persons to key positions in our City as we continue to build strong relationships and provide excellent services to our residents and customers," said City Manager Michael Peoples.
Allison Brockman – Division Manager of Solid Waste
Allison Brockman has been hired as the new Division Manager of Solid Waste in the Public Works Department. She manages a staff of 43 employees and a budget of $5.8 million. Brockman had been the Recycling and Environmental Coordinator for the City of Greenville, South Carolina since 2011. In that role, she oversaw grant writing and waste diversion programs, with a strong emphasis on community relations. She was appointed by Governor Henry McMaster in 2019 to serve on the executive board of the South Carolina Recycling Market Development Advisory Council. Allison has received numerous awards on the state, regional and national levels, including from the Solid Waste Association of North America and the Carolina Recycling Association. Brockman replaces DeeDee Gillis who retired on June 1 after working for the City of Gastonia for nearly 27 years.
Tyler Davis – Neighborhood Program Administrator
Tyler Davis has been selected as the City's Neighborhood Program Administrator. In this new position, he will collaborate with other City departments, external partners, neighborhood organizations and community members. The objective is to further the department's mission by providing resources and education that engage citizens in building a more attractive and diverse community. Davis was the Grant Manager in Community Services and has worked for the City for five years. He was named the recipient of the City's 2019 Customer Service Employee Award.