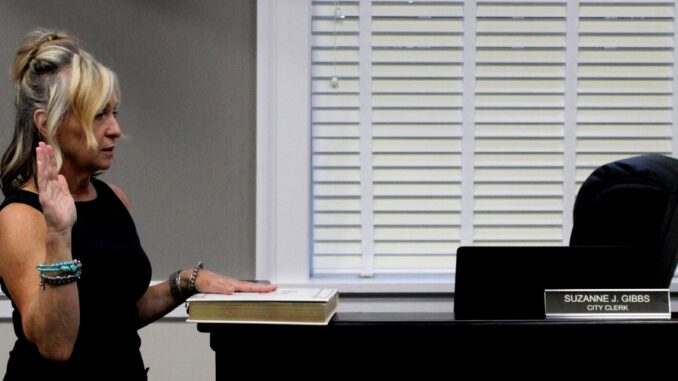 Suzanne Gibbs was officially sworn-in as the City of Gastonia's new City Clerk at the council meeting on July 21. She fills the position vacated by Sherry Dunaway who retired on July 15 after more than 30 years of service.
"I am very excited to be hired for this position," Gibbs said. "It is an honor to serve the Mayor and City Council, our staff, and the citizens of Gastonia." Gibbs was hired in 2013 as the administrative assistant for both the Finance Department and Legal Department with the City. She was promoted to Deputy City Clerk in 2017 to assist the City Clerk and one other Deputy City Clerk.
As City Clerk, Gibbs will work closely with the Mayor, City Council and staff to perform a wide range of duties, such as recording and preparing minutes of council meetings, filing municipal documents, drafting agendas, and as a liaison between City Council and the public. Gibbs is a native of Alexander County and moved to Gastonia in 1994. Prior to joining the City, she worked as a legal assistant for a senior partner in a private law firm. She is the mother of two children.
Denise Johnson, paralegal for the City, was also sworn-in as Assistant Deputy Clerk. She will continue as the City's paralegal, performing title searches, annexations, street closures, civil cases, preparing deeds, easements and real estate closing documents. As Assistant Deputy Clerk, she will also be available to assist with City Council and Committee meetings if needed. Johnson has been with the City since 2018.