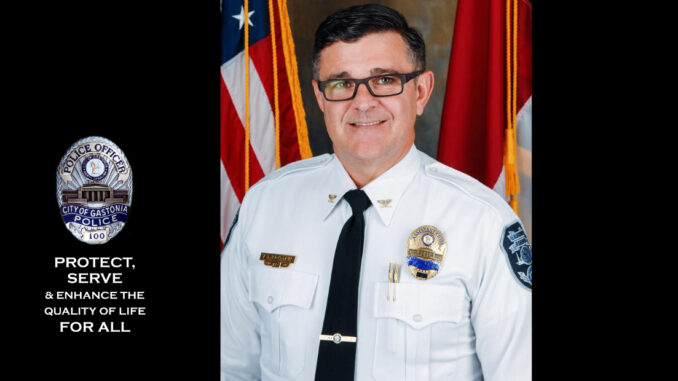 Assistant Chief Anthony Travis Brittain has been named Chief of Police for the Gastonia Police Department (GPD). He has served the Department for 25 years, the last six of those in executive management. Brittain will assume his new duties on October 1 coinciding with the official retirement of the current Police Chief, Robert Helton.
Brittain said he has been preparing for this position his entire career. "It has been a life-long dream of mine to lead this department where I can continue to serve the community with my fellow officers," he said. "This position is about servanthood and I am blessed and honored to have the opportunity to lead a group of women and men who are committed to the betterment of our community."
A native of Gastonia, Brittain has seen the community grow and understands what is needed to meet the changing dynamics for a City of nearly 78,000 residents. "We are proud to promote someone within our ranks who understands the vision for our City and the importance of working with everyone in our community," Mayor Walker Reid, III said on behalf of City Council. "We are confident that Chief Brittain will move the Department forward and he has our continued support to be successful."
"The City began a nationwide search for a new Chief of Police after Chief Helton announced his retirement in June. Chief Brittain was selected from an impressive pool of applicants and his experience, education, and leadership qualities were the best fit for moving the department forward, said City Manager Michael Peoples.
Brittain began his career with the GPD as a Police Explorer in 1989, was promoted to Police Officer in 1994, Sergeant in 2004, Captain in 2012, and Assistant Police Chief in 2014. He has made many significant contributions to the Department's operations by working with law enforcement partners, community leaders, field operations, and crime prevention. Three of Chief Brittain's significant accomplishments include the role he played as a critical partner in the establishment of the Gaston Clergy & Citizens Coalition (GC3) covenant between law enforcement, clergy, and citizens; the partnerships he has established with Federal, State and local law enforcement agencies; and also implementing the 800 MHz radio program, which significantly improved communications throughout the City's public safety services.
"Chief Brittain's commitment to our community and his depth of experience in law enforcement will be instrumental in fulfilling such a vital role for our City," said Deputy City Manager Todd Carpenter. "He is the right person for this position."
Brittain was born and raised in Gastonia and graduated from Ashbrook High School. He earned a Bachelor of Science degree in Criminal Justice from Gardner Webb University and a master's degree in Justice Administration from Methodist University. He is a 2013 graduate of the FBI National Academy's 254th Session and received the Advanced Law Enforcement Certificate from the State of North Carolina. Brittain serves on the boards of several community organizations, including the Executive Board of the Gaston Clergy & Citizens Coalition (GC3) and Habitat for Humanity, where he co-planned initiatives to build homes in areas impacted by crime. He is also a member of the Rotary Club of East Gastonia.