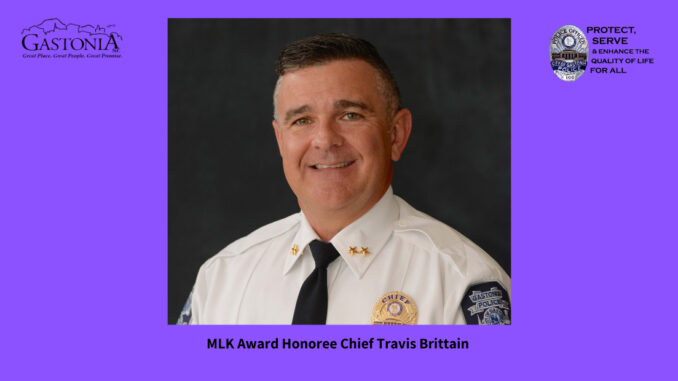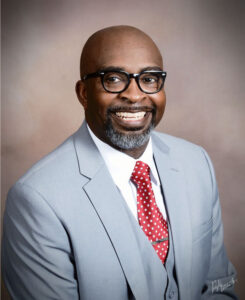 Gastonia Police Chief Travis Brittain and Rev. Dr. Rodney Freeman are recipients of the 2021 Gaston Together MLK Unity Awards presented today, and livestreamed through the Mt. Zion Restoration Church Facebook page due to North Carolina's COVID-19 restrictions.
The Gaston County MLK Unity Award was established in 2004 by the Gaston Clergy & Citizens Coalition (GC3), an initiative of Gaston Together. The award recognizes current or former Gaston County citizens who have performed exemplary community service to help build bridges of unity across lines of class, race, gender, faith and/or municipalities within Gaston County, NC.
Chief Brittain and Rev. Freeman are honored together due to their work and partnership to promote, facilitate and help to spread community awareness of the GC3/Law Enforcement Covenant originally signed in March 2016, according to Gaston Together Executive Director Donna Lockett.
"Both men have done exemplary work individually in building bridges of unity throughout their careers; however, the groundwork these two have laid together while putting the tenets of the covenant into practice has truly made a tremendous positive impact in our community," Mrs. Lockett said in a news release. "They have built a relationship between each other and their respective networks in the law enforcement and African/American communities that kept the worst from happening in Gastonia in the aftermath of George Floyd and other killings as well as the Confederate Monument protests."
In an award recommendation letter for Chief Brittain and Rev. Freeman, Dr. Mark E. Epstein said, "GC3 was entirely prescient in the need (for the covenant). These two individuals embraced, facilitated, and created out of whole cloth a movement that spared Gastonia the worst that could and might have happened…and lays the foundation for it to continue far into the future, continuing a proud Gastonia tradition of proactively addressing race issues (in the spirit of the Human Relations Commission in the early 1960s). I don't think there can be any more deserving recipients of a Unity Award named after Dr. King."
In the covenant citizens pledge to support the role of law enforcement in the community; law enforcement agencies commit to transparency, best practices, and diversity within their ranks; and clergy pledge to provide a safe place for dialogue, sharing emotions and seeking solutions. A framed copy of the original document hangs on the wall at Gastonia Police headquarters.
"The covenant we have with the GC3 is not just a document hanging on a wall," Chief Brittain said. "A great deal of dedication and hard work have been put into not only drafting the covenant but also living by it. Churches are an ingrained fabric in our community and you can't put a price on those relationships and how they help to maintain peace during critical times."
Chief Brittain was born and raised in Gastonia and graduated from Ashbrook High School. He earned a Bachelor of Science degree in Criminal Justice from Gardner Webb University and a master's degree in Justice Administration from Methodist University. He is a 2013 graduate of the FBI National Academy's 254th Session and received the Advanced Law Enforcement Certificate from the State of North Carolina. Chief Brittain has served the Gastonia Police Department for 25 years, the last six of those in executive management. He assumed his new duties as Chief on Oct. 1, 2020.
Brittain serves on the boards of several community organizations, including the Executive Board of the GC3 and Habitat for Humanity, where he co-planned initiatives to build homes in areas impacted by crime. He is also a member of the Rotary Club of East Gastonia.
Dr. Freeman is a native of York, S.C.  He has an Associate of Arts degree in Biblical Studies from Jacksonville Theological Seminary, a Bachelor of Arts degree in Pastoral Studies from Queen City Bible College, a Masters of Divinity Degree from Gardner Webb University and a Doctorate of Ministry Degree from Ashland Theological Seminary. Rev. Freeman has been the Pastor of Mt. Zion Restoration Church in Gastonia since 2000. He is the first African American appointed President of the York Rotary Club, York, SC and is the founder and CEO of Save Our Children Youth Academy as well as Bountiful Blessings Food Pantry both of which are in Gastonia.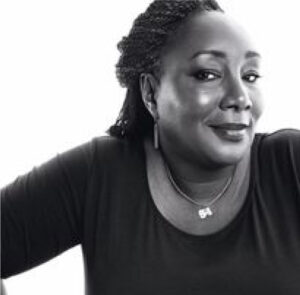 A third 2021 Gaston Together MLK Unity Award was presented to Shaaron Funderburk. Mrs. Funderburk is well known in Gaston County for her work with the Off the Streets Program, Inc., a program designed to assist women in getting off the streets and becoming free from street life, drugs, and alcohol. Tough love and strong leadership by Mrs. Funderburk, CEO and founder, have resulted in rehabilitation with many of these women re-entering the work force and life as capable, responsible, and constructive members of society. Mrs. Funderburk is a Hunter Huss graduate and received a Bachelor of Arts degree from Johnson C. Smith University.
The GC3 is a county-wide, non-denominational ministerial association formed in the late 1990s by the non-profit Gaston Together. The presentation of the Gaston County MLK Unity awards is part of an annual event designed by the GC3 to recognize the dream of Dr. King for all. It is a dream very much alive in Gaston County. Names of Gaston County MLK award recipients are engraved on the MLK Monument located at the MLK Plaza in Gastonia. Some of the past winners include: Senator Marshall Rauch, the late N. A. Smith, Mrs. Lucy Penegar and Danny Jackson. Last year's honorees were Dr. Mark E. Epstein, Gastonia Mayor Walker E. Reid III and John P. Weisenhorn.