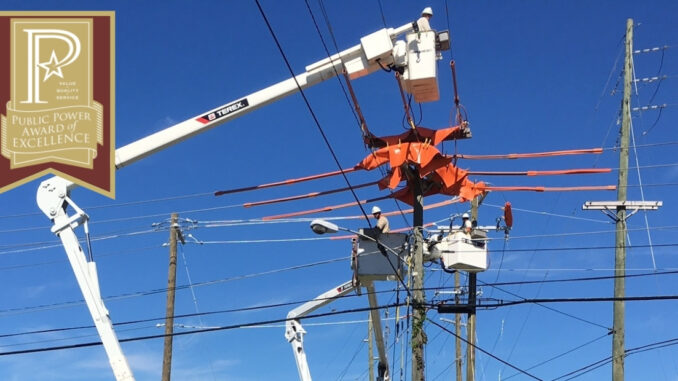 The City of Gastonia's Electric Division has received three Public Power Awards of Excellence from ElectriCities of North Carolina. The awards recognize the utility's continued emphasis on innovation, modernization, high-quality service, workforce development, and value to its customers. This is the fourth consecutive year that the City's Electric Division has received awards.
"We are proud to be recognized again this year by ElectriCities for the electric service we provide to our customers," said Public Utilities Director Joe Albright. "We want our customers to know when they need us, we are here and these awards are a testament that providing safe, reliable, and affordable power to our communities is a priority."
Gastonia received the Workforce Planning and Development Award, which honors communities that work to develop, attract, and retain electric employees. Again this year, Gastonia was recognized for its partnership with Cleveland Community College, as well as training, and a rewards program for existing Electric employees.
Gastonia also received the Wholesale Power Cost Award recognizing communities that provide competitive and stable wholesale electric rates that meet the power supply need of Power Agency Members.
Gastonia received the Value of Public Power Award, which highlights communities that communicate the value of electric system ownership to key stakeholders.
The City of Gastonia has owned and operated its own municipal electrical system since 1900. The City supplies an average of 56,000,000 KWH per month to its 26,700 residential, commercial, and industrial customers through 10 substations throughout the City.
ElectriCities is an organization of 70 communities in North Carolina that have municipally owned electric systems, serving more than 1.2 million people.