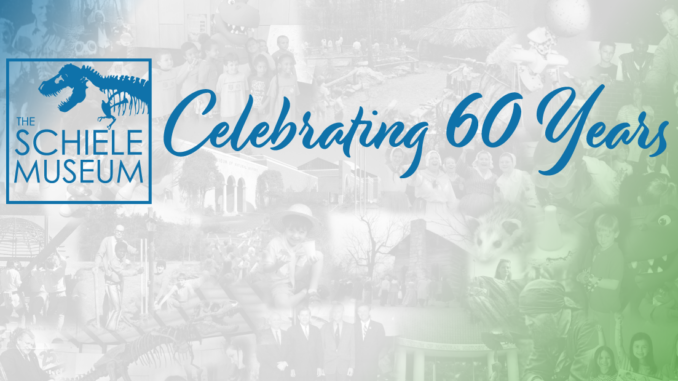 The Schiele Museum invites the community to help celebrate its 60th anniversary this month. The museum is commemorating the milestone in July with special touches throughout the museum, a webpage for residents to share memories, and messages from community leaders.
"We are honored to have many advocates in the community who share this excitement with us," said Dr. Tippitt, executive director of The Schiele. "As the world, our community and the museum recover from the effects of the pandemic, we want to recognize this 60th anniversary and invite our visitors and the community to be a part of this commemoration."
Several community leaders and members will share special messages of support via social media over the coming weeks. The museum welcomes visitors to contribute their memories and photos via a link on their 60th anniversary website.
Since 1961, The Schiele Museum has grown from a 1,500 square-foot facility to encompass a 20-acre campus in Gastonia, with a 77,000-square-foot building housing animal specimens and habitats across North America, traveling exhibits, and the second-largest planetarium dome in the state. Hundreds of thousands of visitors have walked The Schiele's halls to explore the exhibits, participate in programs and events, and journey back in time and into the far reaches of the universe – all in one place.
"Our founders, 'Bud' and Lily Schiele, both valued and respected nature, history, and the diversity of the natural world," Tippitt said. "Their belief in education through hands-on discovery is continued here to this day."
In addition to celebrating the milestone and reflecting the museum's past, administrators and staff are looking to the future. "We have exciting plans in the works and look forward to seeing them unfold for the community, donors, and visitors," Tippitt said.
The Schiele Museum is open on weekdays from 10 a.m. to 4 p.m., on Saturdays from 10 a.m. to 5 p.m., and on Sunday from 1 to 5 p.m. Visitors can learn more about the programs being offered and purchase advance tickets at the museum's website.