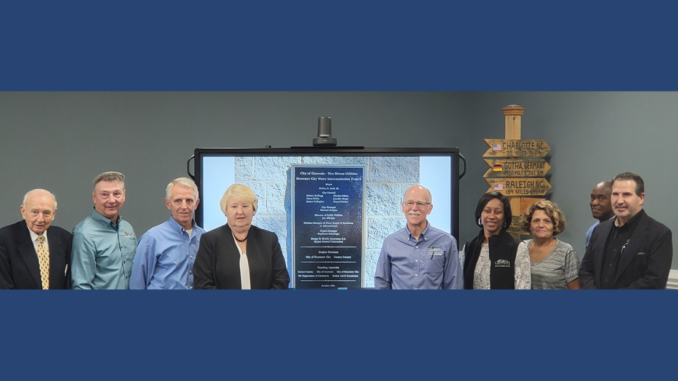 The City of Gastonia held a dedication ceremony on Thursday, Oct. 28 to mark the completion of a water pumping station that will allow Gastonia to supply Bessemer City with up to 1.8 million gallons of water per day. A groundbreaking ceremony for the $2 million pumping station was held in January of this year and the project was completed on October 5.
The project is significant because water interconnections strengthen the resilience of the regional water grid. This project also supports economic development in the region, particularly at the South Ridge Industrial Park in Bessemer City. And the interconnection of water systems gives communities the ability to handle droughts and other emergencies.
"We are excited to complete this project ahead of schedule," said Gastonia Mayor Walker E. Reid. "This project represents a significant partnership between our two municipalities to support our local economies and our region."
The project began when Bessemer City Road was widened in 2010. Gastonia's water line needed to be relocated to accommodate the road work and the foresight by both municipalities led to increasing the line size in anticipation of a future permanent water connection with Bessemer City.
"We are excited that this project will provide for the future needs of our residents," said Bessemer City Mayor Becky Smith. "And we are grateful for the grant funds to make it a reality."
In 2017, discussions between Bessemer City and Gastonia began about constructing a permanent pump station. By 2018, Gastonia, Bessemer City, and Gaston County entered into a joint funding agreement, after which engineering design work began. Bessemer City sought a $1.125 million grant from the North Carolina Department of Commerce, which was awarded in 2019. The final project design was completed in 2020 and the project was put out for bid.
Once the final cost was known, Bessemer City sought additional grant funds for the project and was awarded an additional $200,000 from NC Commerce and a $200,000 grant from the Golden LEAF foundation. Both the NC Commerce and Golden LEAF grants are designated to support economic development. Bessemer City, Gastonia, and Gaston County are each contributing $158,000 in local funds, which is required by the grants.
"Golden LEAF is dedicated to the long-term economic advancement of North Carolina," said Scott T. Hamilton, Golden LEAF President, Chief Executive Officer. "Golden LEAF is pleased to be a partner in this project to extend critical public infrastructure that will enable the creation of more than 150 new jobs in Gaston County."