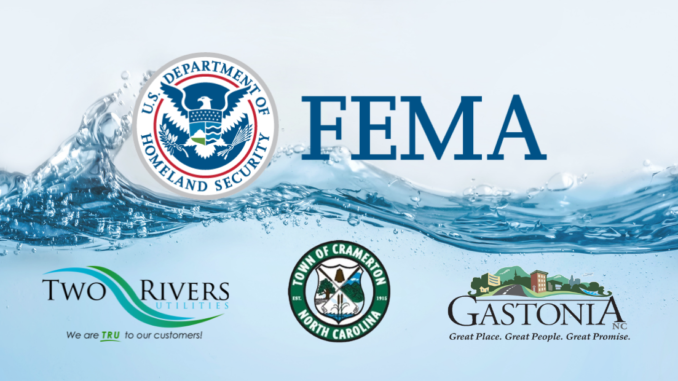 The City of Gastonia's Two Rivers Utilities has received a $1,492,950 grant from the U.S. Department of Homeland Security's Federal Emergency Management Agency (FEMA) for the construction and relocation of a pump station in the Town of Cramerton. The project will reduce the risk of wastewater service interruptions caused by recurrent flooding during significant flood events.
"This grant will provide the necessary infrastructure to support the needs of our municipal neighbor and customers across the region," said City Manager Michael Peoples. "We thank  Sen. Thom Tillis, Sen. Richard Burr, and Rep. Virgina Foxx for their support."
The project is expected to cost $1,990,600 and includes the installation of a new pump station at a location outside of the floodplain, demolition of the existing pump station, and extension of the sewer gravity lines to the new pumps. The proposed location is approximately 100 feet north of the existing pump station location and several feet higher in elevation. The FEMA grant will cover 75% of the project and matching funds will be provided by Two Rivers Utilities.
"Projects like these are a great example of how regionalism works. Partnerships with our sister municipalities benefit everyone," said Will Cauthen, Mayor of the Town of Cramerton. "This infrastructure upgrade has been needed for a long time and we could not have done it without federal leadership as well."
Engineering of the project will begin in 2022, with anticipated relocation and construction of the new pump station to start in 2023.