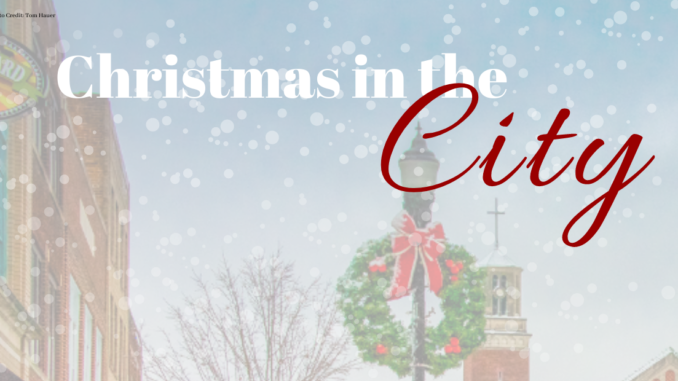 Get into the Christmas spirit with a festive event in Gastonia that includes fun for all ages. The annual Christmas in the City parade, marketplace, and tree lighting ceremony are scheduled for Sunday, Dec. 5 from 4 – 7 p.m. in Downtown Gastonia, with a special appearance by Santa Claus. Last year's festivities were canceled due to the COVID-19 pandemic.
Parade details:
Christmas Parade, sponsored by the Jaycees, begins at Chester Street and Main Avenue and ends at Main Avenue and Broad Street. It starts at approximately 4 p.m.
Christmas Marketplace near the Rotary Pavilion, hosted by the City of Gastonia, starts at approximately 4 p.m.
Tree lighting and holiday concert at the Rotary Pavilion, hosted by Keep Gastonia Beautiful, starts at approximately 4:45 p.m.
Santa will arrive on a vintage fire truck to the Rotary Pavilion after the parade ends.
A special note to attendees:
Street closures:

Main Ave. from Trenton St. to Broad St. will close at 1 p.m. Traffic can still travel on US-321 and MLK Jr. Way until 3 p.m.
Hill Street, Whitesides Street and Clay Street from Franklin Boulevard to Main Avenue will close at 1:00 p.m.
Broad Street from Franklin Boulevard to Long Avenue and Main Avenue from Broad Street to South Avon Street will close at 1:30 p.m.
Chester Street, York Street, and MLK Way from Long Avenue to Franklin Boulevard will close at 3 p.m.

After the parade, attendees can bring their chairs to the Rotary Pavilion while they wait for Santa and the tree lighting ceremony.
The Christmas Marketplace will feature craft and business vendors, and food trucks will sell meals and treats. Some of the free activities at the Marketplace will include face painting, Sno-Globe photos, a trackless train, letters to Santa and coloring booth, and juggling elves. Hot chocolate will be available at no charge, sponsored by Elevation Outreach.
At approximately 5:30 p.m., Santa Claus will flip the switch to light the Christmas tree at the Rotary Pavilion. Afterward, children can visit with Santa, telling him what they would like for Christmas. Performing at the tree lighting ceremony are many local schools and performing arts groups.
Entries for the parade close on Nov. 30.