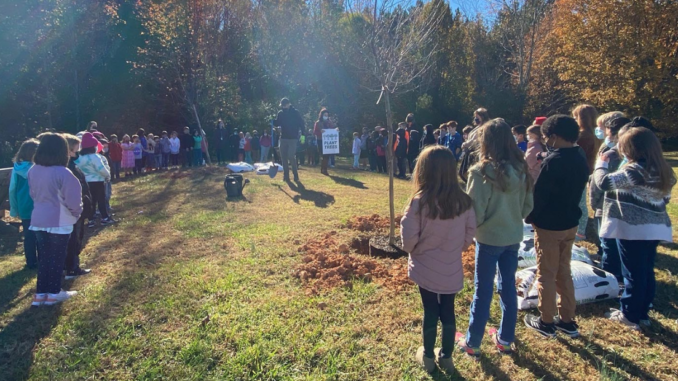 For the City of Gastonia's arborist, planting a tree is more than part of his job, it's his passion for the environment and his mission to help it thrive. Robert Stroud is working to fulfill an assignment by the City Council to plant 150 trees around the city to mark the observance of the 150th anniversary of Arbor Day in North Carolina on March 18.
"When we show up at a school to plant a tree, we make it inclusive for everyone," said City Arborist Robert Stroud. "Planting a tree gives the kids and the entire community the opportunity to start thinking about the future and how that tree can be part of their lineage for future generations."
In November 2021, the City Council asked the Keep Gastonia Beautiful program to identify various places around the City where trees could be planted. A plan was devised to identify schools in Gastonia as the first phase of the plan, then in the second phase identify areas around the City to plant the trees. "It's been great for the students, our staff and the City," said Juliann Lehman, Keep Gastonia Beautiful administrator. "The children absolutely enjoy learning about the environment and sending us thank-you cards and letters. It's very heart-warming."
Since last October, the City's arborist has worked with eight schools to plant a tree and has also planted trees at 16 sites around the City. All total, the effort has planted 58 trees. When the project is completed, Stroud and Lehman hope to reestablish the City's native tree canopy, especially in parks and rights-of-way where trees are being lost due to adverse weather conditions and expanding development across the city.
"We need our trees like we need the air we breathe," said Stroud. "This is small contribution that will make a big impact in years to come."