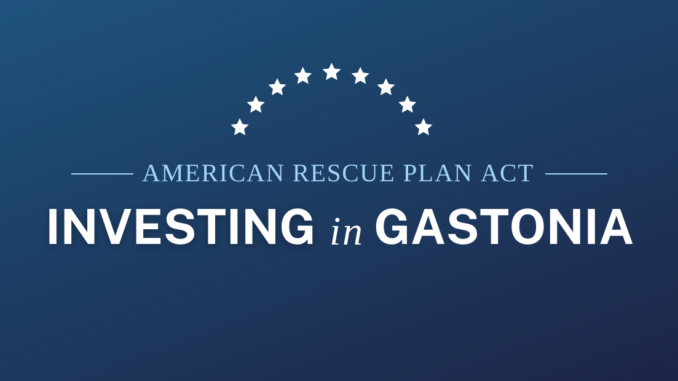 The City of Gastonia has received $15.6 million in American Rescue Plan Act (ARPA) funds. These federal funds must be encumbered by 2024 and expended by 2026.
"We are grateful for the direct appropriation relief funds from the federal Government that will assist the City to continue funding current projects and seed-fund other projects that we have been planning through our Capital Project programming," said Mayor Walker E. Reid. Residents will see some of the projects right away, while others will take longer to implement.
American Rescue Plan Act Funds
While $1,275,940.54 has been expended for police body cameras and tasers, the bulk of the remaining funds will be invested in projects spearheaded by various departments across the City. These departments include: Police, Fire, Public Works, Parks and Recreation, Public Utilities, and Housing and Community Engagement.
The City has already earmarked funds for projects that will benefit a wide range of areas in the community. Some of these projects include:
$3.8 million for homelessness and affordable housing ($2.8 million of these funds are from the HOME program)
Replacing the Erwin Center pool
Replacing wooden playground equipment at all four community centers
Installing security cameras at various recreation facilities
Installing wayfinding signage for greenways and parks
Replacing a bridge on Catawba Creek Golf Course
Upgrades to the Gastonia Skeet & Trap facility and Gastonia Police Department Firing Range
Matching funds for grants to develop the former Linwood Springs Golf Course into a regional park
Direct State Funds
In addition to the ARPA funds, the City is also using $21,629,000 in direct state funds for miscellaneous projects:
Multiple water and sewer projects
Upgrades to the FUSE District
Construction of a portion of Catawba Creek Greenway
New entrance signs for all recreation facilities
Upgrades to the Schiele Museum
Improvements to the Gastonia Municipal Airport
Gastonia's Mayor and City Council specifically thank the North Carolina General Assembly – Gaston County delegation for actively seeking out and delivering millions of dollars in state funding to the City of Gastonia for critical infrastructure projects. "Without this funding and their support, most of these projects would take years to complete and would have been at the expense of local taxpayers," Mayor Reid said.
"This combination of state and federal funds will help create a comprehensive funding approach to many projects we've been planning for in future years," said City Manager Michael Peoples. "These projects will help improve the quality of life for all of our residents now and in the future."