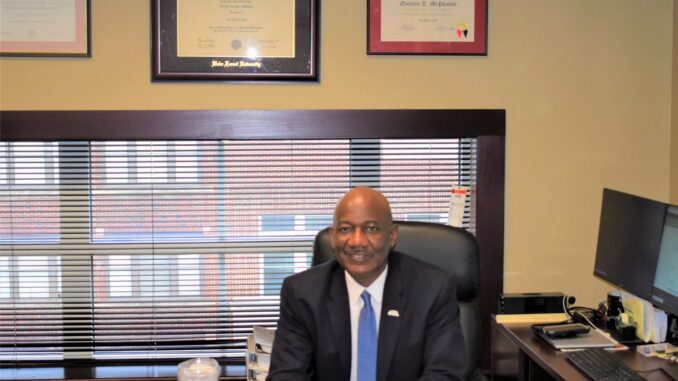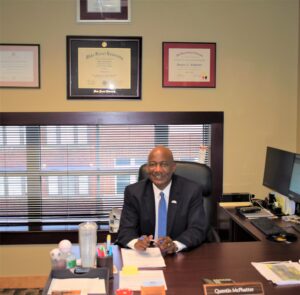 Gastonia continues to celebrate Black History Month by highlighting our first African-American Assistant City Manager, Quentin McPhatter.
Raised in the small town of Wagram, NC, located in Scotland County, with a population of 800 residents, McPhatter attributes his inspiration to his parents who were both first generation college students turned teachers, and his uncle JW Gorham – the first black mayor of Wagram, as well as serving as pastor of Shady Grove Missionary Baptist Church in nearby Raeford, NC.
He took an interest in Speech Communications, working for a radio station while in high school, as well as college, and earning his bachelor's degree from Wake Forest University. After graduating, he pursued a master's degree in Public Administration from North Carolina Central University (NCCU).
It was at NCCU that McPhatter learned about the history of Black Wall Street in Durham, NC with companies like N.C. Mutual Life Insurance and Mechanics and Farmers Bank. Learning Durham's rich black history opened his interests to a career path in local government.  After getting his masters, McPhatter landed his job out of college as a Planning Assistant for the City of Raleigh, providing services and assistance to citizens.
He remembers doing black history speeches at church, reading books by Frederick Douglass, Martin Luther King and W.E.B. Du Bois. He says the will of these prominent figures and other pioneers of black history such as the business owners of Black Wall Street, should fuel the will of those who learn about Black History Month today.
On the importance of Black History Month, McPhatter says, "In order to move forward you have to know where you've been and pay respect to the people who have helped you get from point A to B. It's important to take the time to learn and appreciate other cultures. I've also taken the opportunity to learn more about cultural awareness by obtaining a certification in Diversity, Equity, and Inclusion (DEI) from University of South Florida to get a better understanding in this space."
As the Assistant City Manager of Gastonia, McPhatter is responsible for several departments including Development Services which includes Code Enforcement and Engineering.  He also has oversight of Planning, Economic Development, and Housing & Community Engagement which includes programs like Keep Gastonia Beautiful and Sister Cities and various community initiatives such as the Community Development Block Grant Program (CDBG).
As for the future of Gastonia, McPhatter says he's excited to work on the city's strategic plan set forth by the mayor and council. One strategy currently being worked on is an Affordable Housing Study with UNC – Greensboro to help address housing needs in Gastonia. Another goal he's excited to work on is revitalizing the community to attract more economic opportunity.
Gastonia, N.C., just minutes west of Charlotte, is one of the area's best places to live and work with an ideal combination of location, size, and livability. Gastonia is the largest of Gaston County's 13 municipalities and one of the largest cities in the Charlotte metropolitan area. Selected as an All-America City three times, Gastonia's desirable quality of life is the result of its beautiful natural surroundings, friendly neighborhoods, responsive government and vibrant business environment.