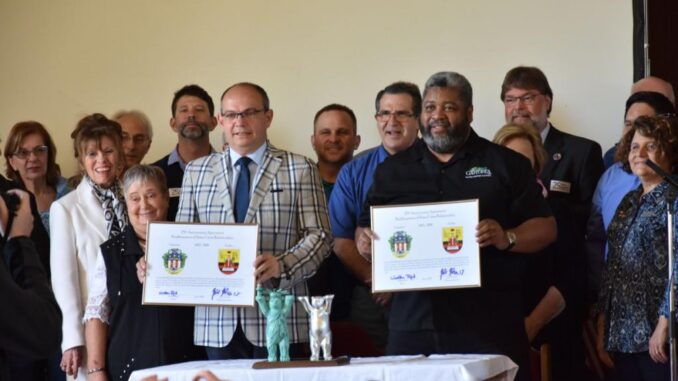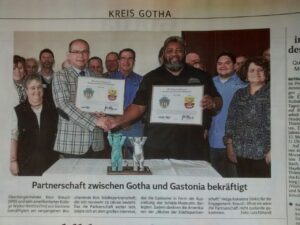 Gotha Mayor Knut Kreuch and his delegation will visit the City of Gastonia to commemorate the 30th anniversary of its partnership with Gastonia through the Sister Cities program. Mayor Walker E. Reid and Mayor Kreuch will meet again to sign the reaffirmation agreement between the two cities, exchange gifts, and share stories from their last visit in May of 2018.
Both mayors will sign a reaffirmation agreement and exchange gifts at a celebration on Saturday, March 25 at the Schiele Museum. While in Gastonia, the Gotha delegation will also tour the City, visit various historical sites, and meet with host families.
"We are very excited that Mayor Kreuch and his delegation is visiting our city to reaffirm our Sister Cities agreement," said Mayor Walker E. Reid. "The mutual partnership has been fruitful, allowing us to share our cultures and common concerns as leaders, which we believe will continue well into the future. I am so excited to see him and his delegation again."
A delegation from Gastonia including Gastonia's mayor, visited Gotha, Germany in May of 2018 to celebrate the 25-year partnership with the two cities. "We may not speak the same language, but we are all committed to partnerships as we share culture, family values, love and respect for each other and desire for a peaceful world," said Juliann Lehman, Gastonia Sister Cities Director.
In June, Gastonia Sister Cities will resume student exchanges that have been on hold since 2020, sending 10 students to Gotha, Germany for 10 days and this fall those students will host the students they stayed with for 10 days in Gastonia. Exchanges like these help the students connect learning to the real world and improves cultural diversity.
Free Presentation | Sunday, March 26 at 2 p.m. | Schiele Museum, 1500 Garrison Road in Gastonia
The public is invited to a free presentation by Mayor Knut Kreuch and a viewing of the film "The Lost Masterpieces" which is a German documentary that traces the events surrounding the shocking heist and the eventual return of the masterpieces of Schloss Friedenstein. The showing is presented in German with English subtitles. Those who attend can also explore the Museum at the conclusion of the film.
###
Gastonia Sister Cities, Inc. is a citizen-based organization established to foster and promote friendships and mutual understandings between the people of the Gastonia area and foreign countries, through partnerships in education, culture, economic development and dialogue.