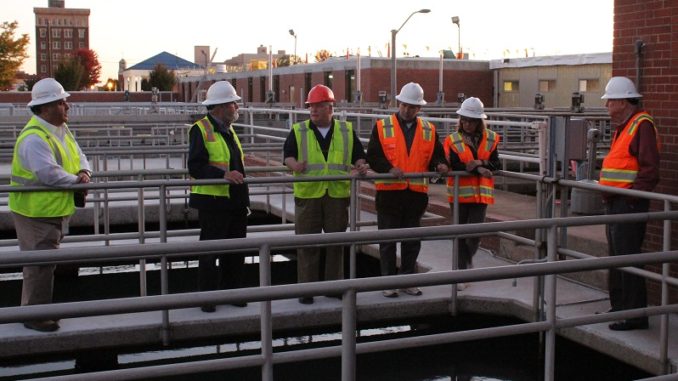 Gastonia City Council members got to see the latest renovations to the City's water treatment plant this week. Improving the expanding the plant will take five years and cost $65 million. The overhaul and upgrade of the 95-year-old plant will modernize equipment, improve efficiency and install a state-of-the-art filtration system that provides added protection against contaminants.
"The City Council members were very impressed with the changes they saw," said Ed Cross, division manager of Two Rivers Utilities, which operates the water plant. "We're using the most advanced method of removing bacteria and other contaminants," Cross said, referring to the plant's membrane filtration technology. "This raises the level of safety, quality and confidence in the drinking water for our customers."
"It was exciting to see the progress they've made on the project," said Mayor John Bridgeman. "And great to hear that the project's on budget and on schedule for completion next year."
Each year, 5 billion gallons of water from Mountain Island Lake is processed at Gastonia's water treatment plant. It is distributed not only to Gastonia's residents, but the City also provides water to the cities of Cramerton, Lowell, McAdenville, Ranlo, Dallas, Belmont, and Clover, South Carolina, a total of more than 100,000 people.
Unique membrane filtration system
Gastonia's plant is the first in North Carolina to use the membrane filtration system in a one-step process to turn lake water into drinking water. As a result, environmental and public works officials from across the state will be watching to see how the new system works as a model for other communities interested in installing the technology.
Most of the enhancements viewed by City Council members are inside the plant and not visible from the outside. However, the most prominent feature of the renovations can be seen by the public: the massive concrete dome that rises above the covered fencing. The dome covers the new 4-million gallon clearwell, which will provide water storage and detention. During the renovation, the City's Electric Department also installed additional redundant back-up power to help ensure the plant operations even during a major power outage.
The water plant renovation is the City's most expensive municipal project to date. North Carolina's Department of Environmental Quality provided the City with a $35 million, no-interest loan which will save water and sewer customers more than $18 million.
Currently, the project is scheduled for completion in the fall of 2018 with no interruption in water service expected.