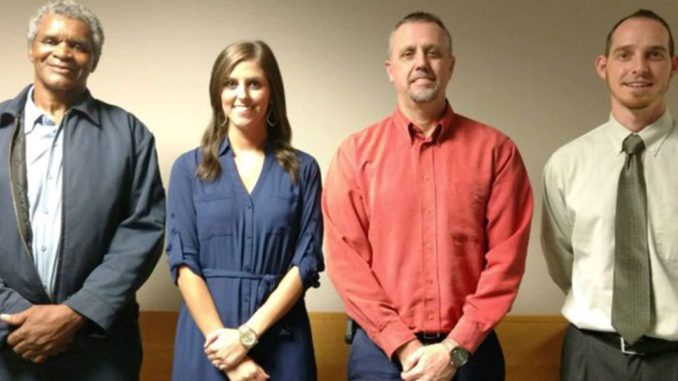 Four people have been named winners of the City of Gastonia's new citywide employee awards program and were recognized at the Gastonia City Council meeting on Feb. 20.
The City began the awards program to acknowledge exceptional and innovative service by employees in four categories. City workers nominated 21 of their colleagues for the 2017 awards, and a committee made up of employees reviewed the nominations and selected the winners.
"We are proud of all of our employees and nominees," said Gastonia Deputy City Manager Todd Carpenter. "The City's new awards program allows us to recognize our employees who consistently go above and beyond their job descriptions in both their work and their attitude. These extraordinary employees set a tremendous example for everyone to follow."
In addition to being recognized by the mayor and city council, the four winners each gets $500, a day off and a small crystal trophy.
Extraordinary Service Award – George Sadler
A motor equipment operator in the City's Public Works Department, Sadler was described as "the most versatile employee in the division." He has worked for the City for 23 years, with responsibilities including operating equipment, laying storm water pipes, pouring concrete, street repair and landscaping.
Sadler has worked on numerous projects such as the Optimist Club Park on Vance Street, the Police Memorial, the Gateway Project and the Farmers Market.
Customer Service Award – Meredith Sisson
Sisson is the program supervisor of the City's Adult Recreation Center and is the local coordinator for the Senior Games. She was praised for her ability to create a positive image of the City with everyone she encounters.
Sisson also serves as an advisor for the Mayor's Youth Leadership Council and volunteers with Meals on Wheels.
Project Management and Delivery Award – Dustin Ledford
Ledford was praised for innovating thinking that saved the City a total of more than $400,000 on three projects. He is a civil engineer in the City's Development Services division and frequently works with private bidders and contractors on projects involving utilities and rights of way.
On one project that required moving a large pipe, Ledford investigated alternative techniques and found a solution that saved the City more than $150,000. He also volunteered to design utility relocations for the FUSE project, rather than having a contractor do the design, saving City taxpayers $100,000.
Safety Award – Joey Thompson
A signal system supervisor in the Public Works Department, Thompson was recognized for ongoing safety training efforts and for specific actions to improve on-the-job safety.
Thompson recently had City mechanics modify service trucks equipped with cranes lifted by hydraulic hammers. A hammer on one truck had gotten stuck, shifted forward and broken the truck's rear window. His modifications protect employees from injury and reduce the likelihood of damage to City equipment.
Thompson was also commended for holding regular safety trainings for his employees, and for performing unannounced inspections at work sites to make sure employees are wearing protective equipment and following safety procedures.