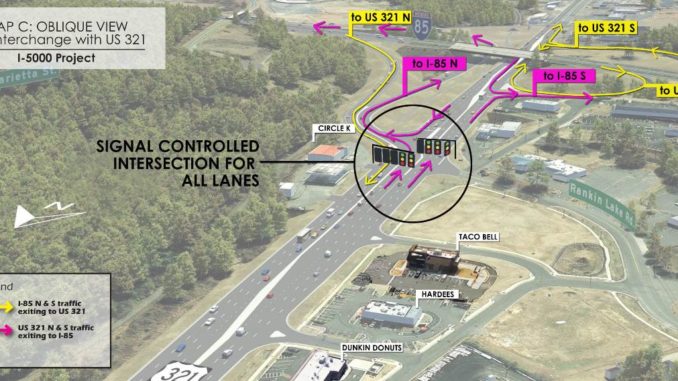 Construction equipment clearing trees and moving dirt alongside US 321 in Gastonia is the first sign of the changes the North Carolina Department of Transportation is making to the busy I-85/US 321 interchange to ease the chronic traffic congestion that jams that intersection daily.
The I-5000 project, NCDOT's official name for the project, is designed to improve the flow of traffic through this critical interchange. The latest traffic counts show more than 100,000 vehicles a day travel this section of I-85 and close to 50,000 vehicles a day use US 321.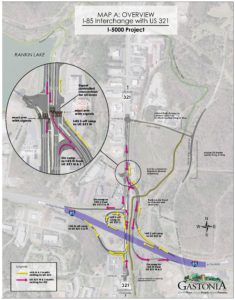 The project design makes use of existing infrastructure as a cost-saving initiative on the $22.8 million project. The existing I-85 bridge over US-321 will remain and the new on-ramp to I-85 North will use the abandoned railroad corridor under the bridge. The old Rankin Lake Road bridge that provided a connection to Dr. Martin Luther King Jr. Way will be removed and that connection will be reestablished with a new bridge at the end of Bulb Avenue, just north of the interchange.
During the construction of the new I-85/US-321 interchange, two secondary projects will extend the greenway to Rankin Lake Park. One portion of the project will extend the Highland Rail Trail portion of the greenway from its current termination point near Radio St. to Bulb Ave.  The other portion will create an extension, called the Highland Branch Trail, which will connect the greenway from Bulb Ave. to Rankin Lake Park. The greenway extension should be complete about the same time as the interchange redesign.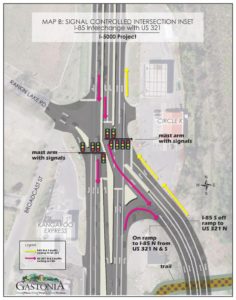 NCDOT contracted with Triangle Paving and Grading of Burlington, N.C., to do the interchange construction work. Drivers along both I-85 and US 321 can see where construction has already begun, with much of the land slated for the new interchange being cleared of trees. Overhead and underground utilities will then be relocated before the traditional roadway construction begins. The project is scheduled to be completed in spring 2020.
Traffic impacts should be minimal during the duration of the project as most of the work is outside of existing roadways. Connections to US 321 and I-85 will occur later in the project with minimal delays expected as most of the construction work will be done at night.