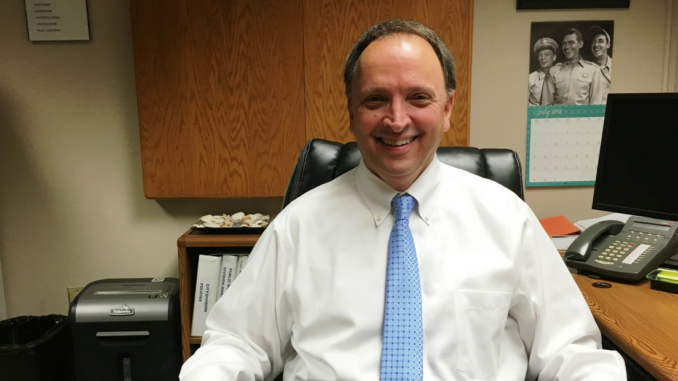 Dale Denton, a Gastonia native and City employee for 32 years, has been chosen to lead the City's Public Works Department. Denton will oversee a $15.9 million budget and a department with 123 employees working for four divisions: Solid Waste, Field Operations (including Streets, Traffic and Stormwater), Equipment Services and City Building Maintenance.
That means Denton and his staff will oversee Gastonia's everyday essentials like operating the City's traffic signals, filling potholes, getting garbage collected, maintaining community centers and keeping the 920 City-owned vehicles, from police cars to leaf-vacuuming trucks, running safely and smoothly.
"Dale is an ideal fit to lead Public Works," said Assistant City Manager Flip Bombardier. "He has broad knowledge, extensive experience, solid leadership ability and decades of proven commitment to the City of Gastonia. And anyone who has worked with Dale knows he is committed to outstanding customer service."
Denton started as a drafting technician in the City's Engineering Department in 1986, working his way up to division manager of field operations in the former Public Works & Utilities Department, a leadership role he held for the past 11 years. "I am honored and extremely grateful for this opportunity," Denton said, "and I look forward to serving as the director of public works for my hometown."
According to Denton, he brings a "practical, common-sense approach" to the job. His first goal is to meet with every employee in the Public Works Department and listen to their suggestions, especially related to improving service, safety and cost-efficiency. "Employees have great ideas," Denton said. "Their suggestions help us to know what's working and what can be improved."
Denton was born and raised in West Gastonia and graduated from Gaston College. Before coming to work for the City of Gastonia, he was employed by Duke Energy at the Catawba Nuclear Station. Denton and his wife live in Gastonia and have three sons. One son is a Gastonia Police officer and two are in college. Outside of work, Denton enjoys beach vacations with his family and playing drums.