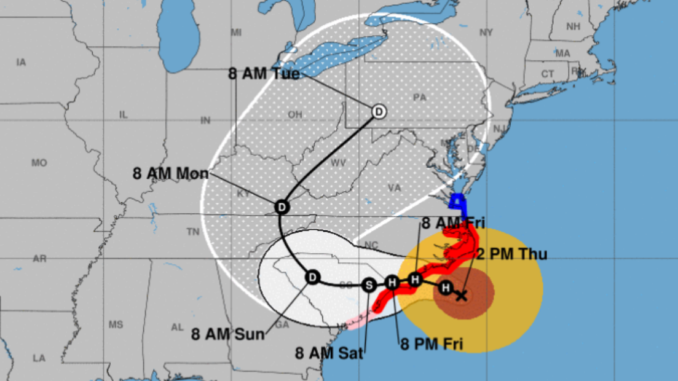 The City of Gastonia continues to prepare for wind, rain and possible flooding and power outages from Hurricane Florence.
Current predictions include:
A total of 5 to 8 inches of rain Saturday through Monday. (Friday update: National Weather Service now predicts Gastonia to receive a total of more than 12 inches of rain.)
Winds strengthening tomorrow (Friday) and increasing to 40 miles per hour on Saturday.
Residents have been asking the City about storm-related topics. Here is a summary of our responses:
Rainfall and flooding
The total rainfall amount is one factor in whether it floods. Rainfall intensity is another. One inch of rain that falls in one hour can cause flooding, especially of streets. Intense rain also makes it harder for drivers to see the roadway and drive safely. Tropical storms often bring intense downpours. Never drive or walk through floodwater.
Wind and power loss
If the ground is saturated, winds of 30 miles per hour can uproot trees. Wind speeds of over 40 miles per hour can break tree branches, especially dead ones. Falling branches or trees can tear down electric lines. Gastonia's electric division will have crews available during and after the storm to repair any downed lines and restore electric service.
If traffic lights are not working, treat the intersection as a four-way stop. Every vehicle should come to a stop at the intersection. The first vehicle to arrive should be the first to proceed. If two vehicles arrive at the corner at the same time, the vehicle on the right should proceed first.
Report power outages 24 hours a day at 704-866-6823 or by using the COG-TRU app.
Gastonia Public Works employees have chain saws and heavy equipment ready to clear any downed trees or large branches from streets. To report fallen trees in the road call 704-866-6843.
Secure patio furniture and grills. Take down and safely store U.S. flags. Remove bird feeders, wind chimes, toys and similar items from your lawn, patio, garden and driveway.
Water and sewer service
For customers of Two Rivers Utilities, bottled water is not necessary for drinking, cooking or bathing during the storm. TRU has backup generators to provide electricity to its water and sewer plants, in the event power goes out. Read more in this story from the Gaston Gazette.
Excess Household Trash Week
Gastonia still plans to pick up qualifying excess household trash next week (Sept. 17-21) at no charge. The City strongly recommends that residents not move excess household trash to the curb until after the storm passes. Any items that are at the curb should be secured to prevent them from being blown by the wind to avoid possible litter, stormwater or traffic safety issues.
Flood zones
To find out if your property is in a mapped floodplain, use this interactive website: https://fris.nc.gov/fris/Home.aspx?ST=NC Remember that floodplain maps do not show every place where flooding can occur. Mapped floodplains are along major creeks and rivers and indicate a specific level of risk. That risk is based on the property's elevation and an assumed amount of rainfall. Flooding can (and does) occur outside of mapped floodplains.
Evacuations and emergency shelters
The City of Gastonia is not under an evacuation order. However, Gaston County will open a day shelter starting Friday, Sept. 14 at the Gaston County Citizens Resource Center, 1303 Dallas Cherryville Hwy., Dallas, N.C. It will be open from 6:30 a.m. to 8 p.m. Any shelter for overnight guests will be coordinated by Gaston County. More at www.gastongov.com.
Communication
Report police, fire or medical emergencies to 911.
To receive Blackboard Connect notifications from the City of Gastonia via phone, email or text, sign up at: http://www.cityofgastonia.com/i-want-to/sign-up-for/notifications.html.