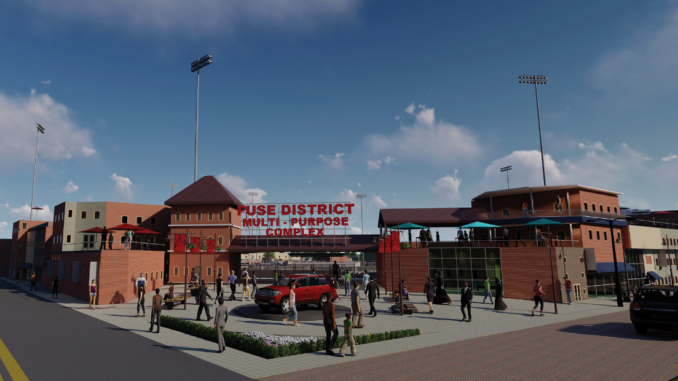 City officials have scheduled a public meeting, Tuesday, Jan. 15 at 6 p.m., at the Gastonia Conference Center, 145 Dr. Martin Luther King, Jr. Way, to provide an update on the FUSE project. The meeting was previously scheduled for Dec. 10 but was postponed due to a forecast for wintry weather.
"The FUSE team is moving forward on various aspects of the project and we want to update citizens on that progress and answer questions," said Gastonia City Manager Michael Peoples.
A presentation by the project's architectural firm, Pendulum Studio of Kansas City, MO, will show the latest construction drawings and computer modeling of how the facility will look, what amenities it will feature, and how it can accommodate a variety of sports and entertainment activities.
The City's economic development director, Kristy Crisp, will talk about plans for the first private development associated with the FUSE project, the adaptive reuse of the adjacent Trenton Mill into a residential community. She will also discuss plans for other private development including the historic Coca-Cola building and development parcels created on the FUSE site.
"We have always said that FUSE is an economic development project, one that will attract private investment which will help ensure it is not just a stadium project but the development of an entire urban district that can impact economic growth throughout the central business district and the city," Crisp said.
Peoples will present a preliminary financing plan for the $21.5 million project. "Many citizens like what they see in this project and want to know how the City will pay for it," Peoples said. "We believe we have put together an economically feasible proposal, especially considering the economic impact this project can make on our entire city."
There will also be a question and answer period and breakout sessions following the meeting highlighting specific aspects of the project. For more information, contact: Kristy Crisp, kristyc@cityofgastonia.com or Rachel Bagley, rachelb@cityofgastonia.com