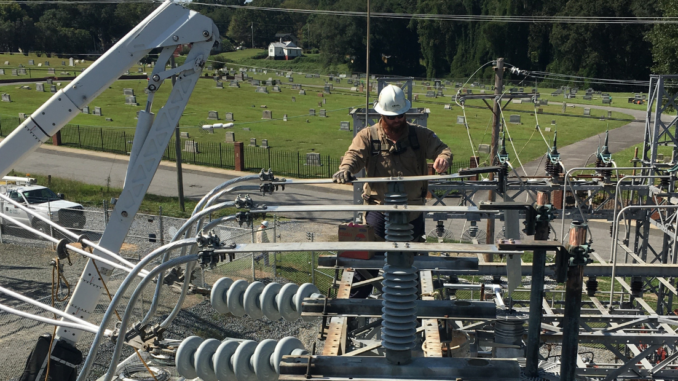 The City of Gastonia's Electric Division has won four Public Power Awards of Excellence from ElectriCities of North Carolina. The award categories align with ElectriCities' five strategic priorities of grid modernization, workforce development, wholesale power cost, continuous improvement and communicating the value of public power.
"These awards are a testament of our dedicated professionals who work hard to provide reliable service," said Public Utilities Director Joe Albright. "The awards are also indicative of the City's commitment to providing fair, competent, responsive and cost-effective services at the highest level."
Gastonia is among six North Carolina communities to win the Grid Modernization Award, which recognizes advancements in technology, safety and reliability. The City installed trip-saver devices to reduce the number and frequency of sustained power outages. And the City's Electric Division installed an intermediate breaker between Duke Energy and the City's electric system that allows Gastonia crews to restore power more quickly without waiting for Duke Energy to reset its breaker.
ElectriCities' Workforce Planning and Development Award honors communities that excel in attracting, developing and retaining electric employees. The City of Gastonia was recognized for its alliance with Cleveland Community College, which has led to the development of a pathway program for future electric linemen. Gastonia also provides training and development programs for all Electric employees. And to remain competitive in the marketplace, the City of Gastonia developed a rewards system for Electric employees who go above and beyond.
The Wholesale Power Cost Award recognizes the City of Gastonia's efforts to provide competitive and stable wholesale electric rates. The City was praised for its ongoing efforts to replace lighting in City Hall with LED and to allocate budget funds each year to replace a portion of street lights with LED. The utility provides free energy audits for residential, commercial and industrial customers. And rebates and credits are available for customers who participate in specific programs to reduce energy consumption.
The City of Gastonia also won the Value of Public Power Award for its success in communicating the value of public power. Specific efforts include the City's annual Citizens Academy that includes a session about the Electric Division, Electric crews' participation in Cotton Ginning Days in Dallas, and social media posts providing updates about electric power outages and information about the advantages of a citizen-owned electric power system.
ElectriCities is an organization of 70 communities in North Carolina with municipally owned electric systems, serving a total of 1.2 million homes and workplaces.