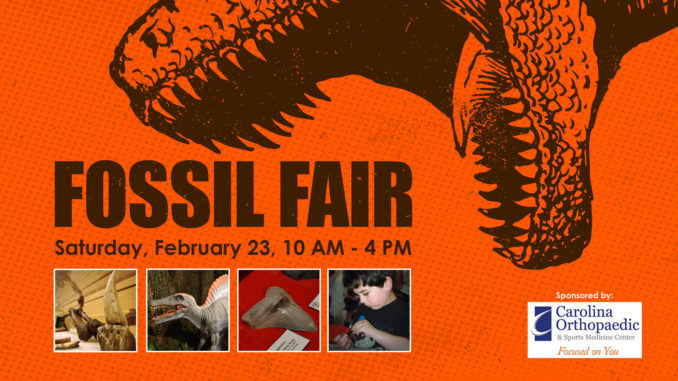 Saturday, February 23, 10 a.m. – 4 p.m.
Travel back through time by exploring fossils, rocks, minerals, and the ancient stories they tell. Explore museum and fossil club displays, purchase interesting specimens from vendors, and more! Plus, see a special presentation from Matt Borths, Curator of the Division of Fossil Primates at the Duke Lemur Center.
Tickets:
Schiele Members: $3 (available online or at the door)
The Member Express Lane will be open from 10 a.m. – 2 p.m. for your convenience. Members are welcome to purchase tickets in advance and pick them up at the Member Express Lane.
Non-Members: $3 in addition to museum admission (available at the door)
Please note: ASTC Passport Program reciprocals will not be accepted for this event. General admission plus the event up-charge will apply.
Fossil Fair Activities:
– Living Fossil presentations at 11 a.m., 1 p.m., & 3 p.m.
– Primitive Primate presentations by Matt Borths at 12 p.m. & 2 p.m.
– Gemstone Mining (weather permitting)
– Search for tiny fossils from the Carolina Coast
– Explore fossil club displays and more!
Thank you to Carolina Orthopaedic.