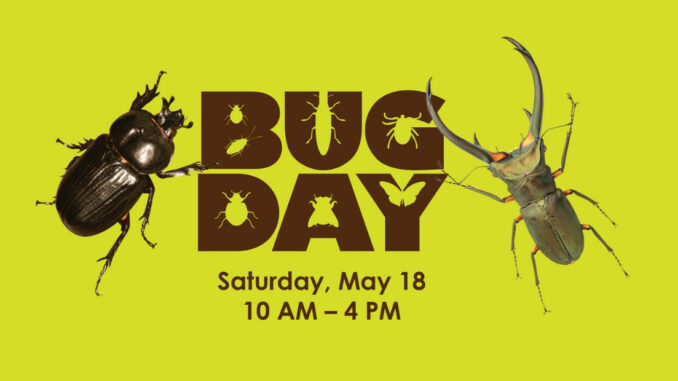 The Schiele Museum in Gastonia is hosting its annual Bug Day event on Saturday, May 18 from 10 a.m. -4 p.m. This year, visitors will get an up-close look into the world of insects, spiders and other arthropods, while exploring the important roles bugs play in the environment for other species.
Entomologists, exhibitors from across the region and museum staff will be available to answer any bug-related questions. Plus, visitors are encouraged to bring a bug (in a sealed container) for identification, and if they happen to stump an entomologist, they'll be entered into a drawing for a grand prize. The Schiele will also host a variety of special programs throughout the day, including shows by the one-and-only Bug Whisperer, insect cooking demonstrations, bug bingo, and the infamous Bug Eating Contest.
"Bug Day is not just for those who love insects. You gain an appreciation for insects through learning about their importance and about other animals that depend on them, such as owls, opossums, turtles, hedgehogs and more," said Keeley Zimmerman, live animal manager at The Schiele Museum. "Don't miss out on this amazing day just because you're a little squeamish or scared. I promise you it will 'bee' worth it!"
Through a variety of hands-on activities and engaging programs, Bug Day is a great way for visitors of all ages and interests to learn about the crucial roles that insects and arthropods play in sustaining our environment. Although the event is called Bug Day, it is about more than just insects. Bug Day takes a big-picture look at the different ways these little (and sometimes not so little) critters impact our everyday life.
Bug Day tickets are $3 in addition to general museum admission and can be purchased at the door. Schiele members are able to purchase tickets in advance by calling 704-866-6904. For those whose cravings are not satisfied by edible insects, Will's Doggn' It food truck will be onsite with a variety of lunch options. For more information, please visit schielemuseum.org or follow The Schiele Museum on social media.