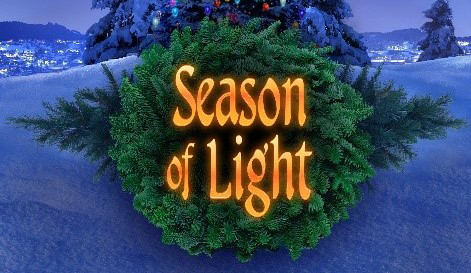 Celebrate the Season!
Come to the James H. Lynn Planetarium and Science Theater this December for two special programs guaranteed to get the entire family into the holiday spirit. Take a break from the hustle and bustle of the holidays while creating a new tradition with family and friends!
'Season of Light'
December 2018: Daily 1:30 PM | Saturdays & Holiday Evenings 6 PM
This eloquent presentation traces the history of many of the world's most endearing holiday customs, all of which involve lighting up the winter season – from the burning of the Yule log and sparkling Christmas tree lights, to the traditional ritual of the Hanukkah Menorah and the Christmas Star. Slow down during the holidays and join together with family and friends to discover why the coldest season holds some of the warmest and brightest celebrations of the year.
'Let it Snow'
December 2018: Daily 3:30 PM | Saturdays & Holiday Evenings 7 PM
This festive sing-a-long features music from Frank Sinatra, Burl Ives, Ella Fitzgerald, and more! Get into the spirit of the season with immersive visuals filling the dome synchronized to a winter soundtrack guaranteed to entertain carolers of all ages. For kids from one to ninety-two, "Let it Snow" is a unique experience the entire family will enjoy.
Song List:
Let It Snow
Linus & Lucy
Run Rudolph Run
Frosty the Snowman
Santa Claus is Coming to Town
A Holly Jolly Christmas
Jingle Bell Rock
Rudolph the Red Nosed Reindeer
Jingle Bells
Winter Wonderland
It's Beginning to Look a Lot Like Christmas
Wizards in Winter
We Wish You a Merry Christmas
Tickets are $5 per person. Children 3 and younger admitted free. Seating is limited and advanced tickets are strongly encouraged. Call 704.866.6900 to purchase tickets in advance. Holiday evenings: December 26th-30th.
Please note: programs begin promptly at their scheduled times and late admission will not be possible.