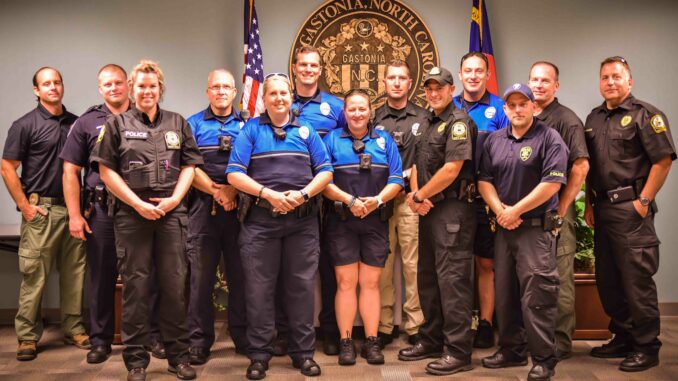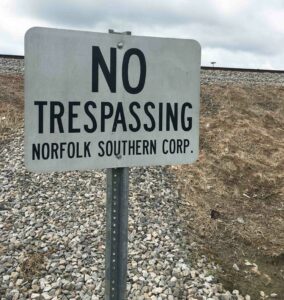 Some Gastonia residents were warned about the dangers of trespassing on railroad tracks during a community safety outreach operation aimed at preventing train injuries and fatalities.
On May 22-23, Gastonia Police Department (GPD) Community Coordinators, GPD's Traffic Bureau, Norfolk Southern (NS) Railroad Police, and the Amtrak Railroad Police spoke with residents and businesses along the Charlotte North District Line, which extends from North New Hope Road to Northwest Boulevard and sees about 20 trains operating daily.
Contact was made with 40 individuals trespassing on railroad property, one person was arrested on outstanding warrants and another was cited for trespassing after ignoring a warning, according to outreach organizers GPD Officer Brian DiYorio and NS Railroad Police Officer Stacey McGraw.
In 2018, North Carolina ranked 9th in the nation for train fatalities. Gastonia has had four fatalities in less than a year and a half.
"Everyone was well receptive of the outreach effort and we even had a gentleman tell us that he was happy to see police officers out educating members of the community on rail safety," Officer DiYorio said.
Follow these rules around railroad tracks and trains:
Railroad tracks are private property. Walking or playing on them is illegal and­ trespassers are subject to arrest and fines.
The only safe place to cross is at a designated public crossing with either a crossbuck, flashing red lights, or a gate. If you cross at any other place, you are trespassing and can be ticketed or fined.
Flashing red lights indicate a train is approaching from either direction. You can be fined for failure to obey these signals. Never walk around or behind lowered gates at a crossing, and DO NOT cross the tracks until the lights have stopped flashing.
Trains cannot stop quickly. A freight train moving at 55 miles per hour can take a mile or more to stop.
Don't stand close to railroad tracks. A train is at least three feet wider than the tracks on each side.
Never walk, run, cycle, or operate ATVs on railroad tracks, tunnels, or bridges. There is only enough clearance on the tracks for trains to pass. Trestles are not meant to be sidewalks or pedestrian bridges!
Never try to hop or jump aboard a moving train, and don't try to climb between the rail cars of a stopped train as the train can start moving at any moment.
ALWAYS EXPECT A TRAIN! Freight trains do not follow set schedules.
Report trespassers to Norfolk Southern Police at 1-800-453-2530. More information can be found online at www.seetracksthinktrain.org and www.oli.org.