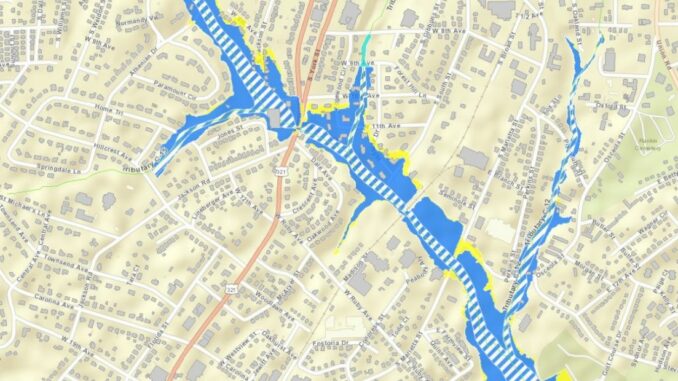 Owners of Gastonia homes and businesses in high-risk sections of the floodplain will continue to get a 5% discount on their flood insurance.
The Federal Emergency Management Agency has recertified the City of Gastonia's participation in a nationwide program to reduce flood damage to homes and businesses that are at greatest risk. To be awarded discounts on flood insurance policies, the City has to prove each year that its development ordinances and floodplain management practices meet FEMA standards.
"The City of Gastonia is committed to reducing the risk of flood damage to buildings," said Assistant City Engineer Tucker Johnson. "We do this through proactive growth and development policies, protection of natural resources, enforcement of the stormwater management plan, and targeted public awareness."
Gastonia has 453 structures in what's called the Special Flood Hazard Area. This is shown on floodplain maps as land with at least a 1% chance of flooding in any given year. The majority of Gastonia's flood-prone homes and businesses are along Catawba Creek and were built before floodplains were mapped and before regulations were adopted to restrict floodplain development.
Under federal law, homes and businesses with a federally backed mortgage that are located in a Special Flood Hazard Area must have flood insurance, which is separate from traditional property insurance. Because of Gastonia's participation in FEMA's Community Rating System program, premiums on those flood insurance policies are discounted 5%.
The Community Rating System is intended to reduce flood damage and reduce the number of flood insurance claims in the United States each year. The CRS program rewards participating communities for floodplain mapping and development regulations, flood-damage reduction efforts, public information about flood hazards, and flood warning and response.