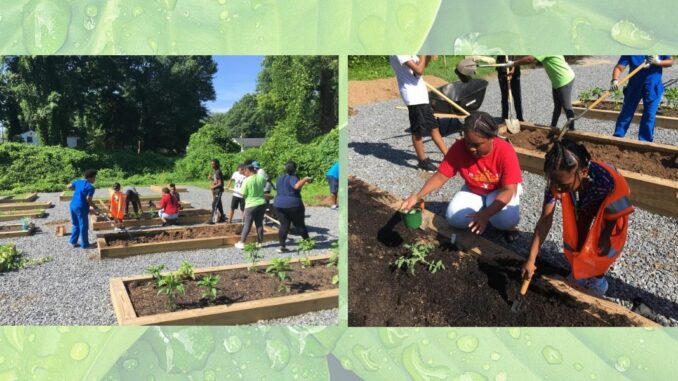 From an empty lot a few months ago to a cornucopia of fresh vegetables today, the first year of the Highland Community Garden is proving to be a big success.
The ribbon cutting at the garden was in April. The 10-15 Gastonia teenagers who've spent months tending the garden are now gathering the tomatoes, cucumbers, watermelon, okra, sweet corn and zucchini from the plants they put in the soil in the spring.
"They've been out in the heat, watering their plants," said City of Gastonia Community Services Director Vincent Wong of the young gardeners. "They've planted, watered, weeded and are now harvesting. And in the process, they've learned some patience, accountability and discipline," Wong said. The young people have formed a 4-H club, calling themselves the "Highland Cultivators."
The garden is on a City-owned lot and was built with federal Community Development Block Grant money. Other partners include the Gaston County Health and Human Services Department, Gaston Family Health Services, Gaston County Cooperative Extension, and community members who are master gardeners.
"This is only possible because of the active participation and collaborative partnerships," Wong said. "We took a vacant lot that was not buildable and turned it into a place where residents are taking ownership and volunteering their time to make sure the garden stays successful."
For now, most of the bounty is going home with the teenage gardeners. But Wong says the 4-H club may also sell some produce to residents in the Highland community.
Photos begin with soil preparation in April and continue through harvesting of produce in August.