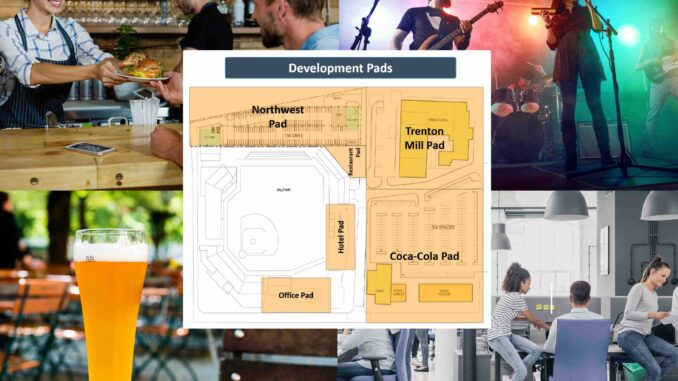 The City of Gastonia is leveraging all financial tools possible in the economic development toolbox to help spur private development in the Franklin Urban Sports and Entertainment (FUSE) District. The sports-and-entertainment complex that anchors the FUSE district is surrounded by parcels to be developed privately.
"This is an exciting time for us," said Gastonia Mayor Walker Reid. "The FUSE project is expected to attract an estimated $75 million in private development to our city, and quality economic development creates additional jobs and grows our tax base. Gastonia's Economic Development services can help developers take advantage of various types of financial tools to help spur private investment."
According to Assistant City Manager Quentin McPhatter, who oversees the City of Gastonia's Development Services which includes Engineering, Planning, Building Inspections and Economic Development, there are five economic development tools that may be available to private developers. Those tools include the Municipal Service District, New Market Tax Credits Program, Opportunity Zone designation, Urban Redevelopment Plan Area, and the NC Brownfields Program. All provide incentives for property owners and developers to redevelop underused properties. The incentives include lower interest rates on loans, reduced capital-gains taxes, and/or enhanced local government services in exchange for a higher property tax rate. One of the five tools is a City of Gastonia program, two are guided by state statute, and two are federal programs.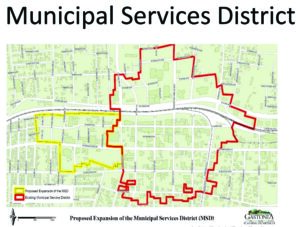 The Municipal Services District (MSD) is an area of the city with an additional property tax in order to provide projects or extra services that benefit the properties in the district. Examples of services provided include advocacy, economic development assistance, project development, business retention and recruitment, administration, street and sidewalk cleaning, safety enhancement, landscaping, marketing, promotions, festivals and special events, and the equipment and personnel to accomplish these services.
The City of Gastonia tax rate is 52 cents per $100 assessment value starting on July 1. Property owners located in the MSD pay an additional 20 cents for a total of 72 cents per $100 valuation during the 2019-2020 fiscal year for the enhanced services that directly benefit them.
The City initiated the process in fall 2018 for expansion of the existing MSD to include the FUSE site and adjacent properties. City Council approved the ordinance extending the district and the new area became effective July 2019.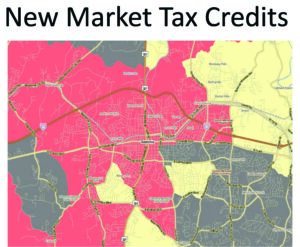 The New Market Tax Credit (NMTC) Program is part of the Community Renewal Tax Act Relief of 2000 enacted by Congress. The intent of the program is to spur growth in communities by providing tax incentives to investors who invest in certified Community Development Entities (CDE). By working with a CDE, developers can receive the NMTC below market rate loans for gap financing to fund projects in eligible areas, based on distress data/poverty and unemployment. In Gastonia, NMTC eligible areas are located west of Cox Road including the FUSE site and adjacent areas located in the downtown area.
"We have been in discussions over the past few months with The Innovate Fund, a CDE located in Greenville, S.C, regarding the use of New Market Tax Credit funding for various economic development projects in Gastonia," McPhatter said. "The Innovate Fund recently informed us that they received a $60 million allocation to fund projects within their service area, which will include North Carolina beginning in 2020. In addition, they have also indicated their interest in working with developers/operating businesses seeking to utilize NMTC funding within Gastonia."
An example of a project funded by NMTC is the Golden Belt Complex in Durham, N.C., a textile factory that produced pouches for Bull Durham loose leaf tobacco and then, paper cigarette cartons. As the textiles and tobacco industries declined so did the vitality of downtown Durham. The Golden Belt was donated to the Durham Housing Authority (DHA) who in turn, sold a majority of the facility to Scientific Properties, LLC, a North Carolina-based real estate and development company in 2006. Scientific Properties planned to convert the historic site into a mixed-use commercial, arts and residential space with the potential to spark additional revitalization of the neighborhood. The Self-Help Ventures Fund, a CDE, helped to make this project successful with gap funding.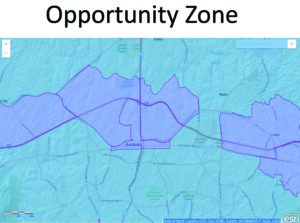 The Opportunity Zone Program was enacted on Dec. 22, 2017 and unlocks $6 trillion in unrealized capital gains and promotes investments in certain economically distressed communities known as Opportunity Zones. If you have invested in stocks, real estate or other assets that have appreciated in value, historically you cannot sell those assets without paying huge taxes. Now by investing in a qualified opportunity fund you can sell your appreciated asset, temporarily defer your original capital gain until 2026, and be able to reduce your capital gains expense.
On May 18, 2018, the U.S. Secretary of Treasury certified 252 census tracts in North Carolina as Opportunity Zones. "We have nine Opportunity Zones in Gaston County, with six of these opportunity zones within the City of Gastonia, including the FUSE District," McPhatter said.
An example of an Opportunity Zone project is in the City of Kannapolis, N.C., which approved a master development agreement with a developer for a project which includes design, finance, construction, ownership and operations for residential units, a hotel and retail space.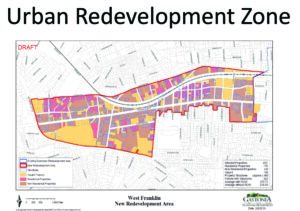 The Urban Redevelopment Zone tool was first activated by the City of Gastonia in 1997 for downtown revitalization. A redevelopment area is a geographic area targeted by local government under a North Carolina urban redevelopment law (NC General Statute Chapter 160A, Article 22).
To be eligible for designation as a redevelopment area, the targeted area must be classified as blighted, meaning the growth of the area is impaired by the presence of dilapidated or obsolete buildings, overcrowding or other unsafe conditions. The local planning commission is responsible for this designation. Once an area is designated as a redevelopment area, special statutory powers may be exercised there to attract private investment.
The City of Greenville, N.C., created a redevelopment area in its downtown and focused significant resources there. For example, the city provided assistance to small businesses in the central business district, installed new signage downtown, built a community center and expanded the library.
A new redevelopment area zone, which includes the FUSE Properties, is currently being studied for Gastonia's downtown and could be implemented by the end of the year.
The City's participation in the NC Brownfields Program is another tool that has been utilized to facilitate private investment of the old Trenton Mill site and the old Coca-Cola facility, which are near the proposed FUSE site.  A brownfield is a site is any real property that is abandoned, idled, or underused where contamination, or perceived environmental contamination, hinders redevelopment.  The development of a brownfield site can be challenging since it is can be very difficult to obtain loans for redevelopment on these properties due to the possibility of potential environmental cleanup liability.  Participating in programs such as the NC Brownfields Program lessen the liability or risk for prospective developers on properties such as the old Trenton Mill building and the old Coca-Cola building.
In September 2018, the City of Gastonia completed a Brownfields Agreement with the NC Department of Environmental Quality (NCDEQ) for the old Trenton Mill building and the old Coca-Cola building.  The agreement provides developers with the assurance that the brownfield property is suitable for a wide variety of uses.  For example, the City's brownfield agreement with NC DEQ allows the old Trenton Mill building and the former Coca-Cola building to be utilized for the following, but not limited to retail, office, high density residential, restaurant, and breweries.  It is the City's participation in the Brownfield's program which will assist in the $15 million renovation of the old Trenton Mill property, which will be redeveloped into 84 units by Lansing Melbourne Group (LMG).
In addition, the development of a brownfield agreement also enables developers and/or property owners to apply for reduction in taxes based upon improvements which have been made to the properties.  The opportunity to lessen risk in order to obtaining financing and the ability to apply for brownfield tax benefits make participation in the NC Brownfields program beneficial to the City and for prospective developers.
"The City of Gastonia is working with private developers, helping them understand how each of these tools might work for their situation," McPhatter said. "Each of the programs has specific requirements. We can help them match the different tools to the developers' needs."
More information about FUSE is online at www.fusegastonianc.com.