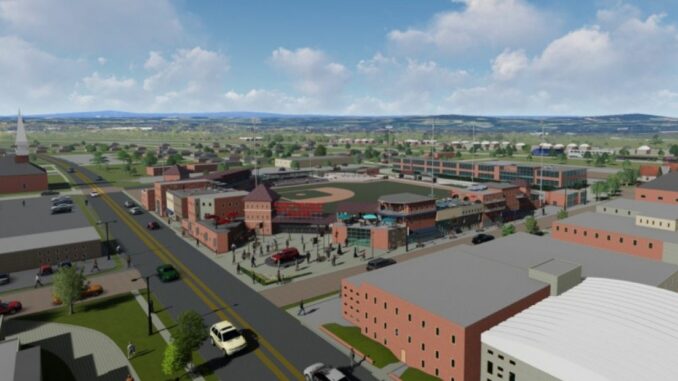 The Gastonia City Council has approved a contract with Rodgers Builders of Charlotte, NC, for $26,219,797 to build the stadium as part of the City's Franklin Urban Sports and Entertainment (FUSE) District during its August 7 meeting. The cost of the project is more than the original estimated amount. However, the project is a tremendous leap forward for what City leaders believe will be a major boost for economic development in the area. "The FUSE project will change and transform our downtown," said Councilman Jim Gallagher. "This is about raising up Gastonia and we wholeheartedly support it."
Three factors affected the increased cost for the stadium construction: material and labor costs in a premium market, further ADA accessibility requirements determined by the NC Department of Insurance, and usability modifications. The City's FUSE Team worked closely with low bidders to reduce costs by over $2 million to better define the scope of work and substitute materials and finishes. "We didn't know in our design of the facility that these things would be required until the final review," said Michael Peoples, city manager for the City of Gastonia. "However, all of the cost reductions were done without impacting the activity areas, which we know will be important to people attending events in the stadium," said Peoples.
The City will pay for most of the cost of construction by selling limited obligation bonds.
The project will also be financed in other ways:
One-time use of the General Fund Balance.
Interest rate reduction from the projected 4.75% to 3.65% or less.
Debt retirement – the City will reduce existing debt payments in FY2020 and FY2021.
New revenues from travel, tourism, and hotel occupancy taxes.
Philanthropic or community giving.
Naming rights for the stadium.
There are several steps that need to happen now that the contract and a guaranteed minimum price has been approved:
August 20 – Public hearing for proposed economic development agreement with Lansing Melbourne Group for Trenton Mill Redevelopment.
August 20 – Atlantic League presentation to City Council.
10 – Local Government Commission meeting to approve bond issuance.
13 – Proposals for private development are due.
19 and 20 – Bond pricing and debt issuance.
October 3 – Bond closing and groundbreaking ceremony.
For more information about the FUSE District, visit the website at www.FUSEgastonianc.com.