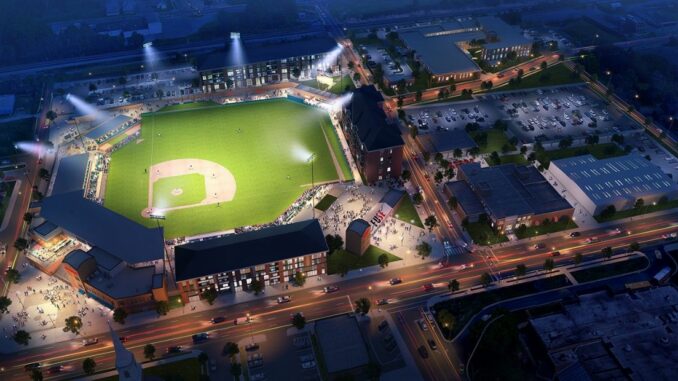 The City of Gastonia will hold a groundbreaking ceremony for its new multi-use sports and entertainment facility, located at 800 W. Franklin Blvd. in Downtown Gastonia. The groundbreaking ceremony is open to the public and will also include entertainment, food, and activities for kids and adults. The stadium is part of the City's Franklin Urban Sports and Entertainment (FUSE) District and is expected to open in the spring of 2021. Rodgers Builders is the principal construction company for the project.
"FUSE will be an economic jumpstart for the City of Gastonia," said Walker E. Reid III, Mayor of the City of Gastonia. "We are excited to be at the forefront of what promises to be a great asset for our citizens and visitors."
What:
Groundbreaking for new FUSE stadium
Free event. Open to the public.

When:
Thursday, Oct. 3, 2019
5-8:30 p.m.
Where:
800 W. Main St., Gastonia
The FUSE stadium will host approximately 70 baseball games per year featuring players from the Atlantic League as well as other sporting events, concerts, festivals and other community functions. City officials believe the stadium will also attract private development in the area around the stadium.
Building a 5,000 seat stadium is no small feat and Rodgers Builders is working closely with the City to make sure it provides a safe, memorable experience for those attending events in the stadium. "One of the pillars of our mission is to build community with care, and we are excited about what the future holds for the Gastonia community and region," said Pat Rodgers, President and CEO of Rodgers Builders. "We are proud to be part of this project with the City of Gastonia."