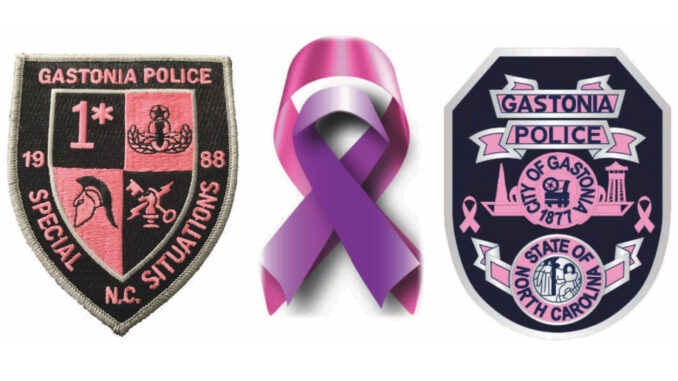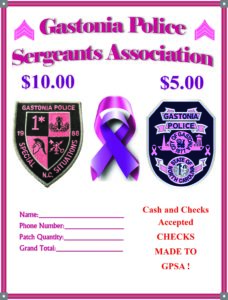 During the month of October, you might see Gastonia Police officers and others wearing pink patches and badges. That's because the Gastonia Police Sergeants Association (GPSA) has a cancer awareness effort underway called the Pink Patch Project.
"The Pink Patch Project is a way to remember those we have lost to cancer and support those who are fighting this terrible disease," said Sgt. Nancy Brogdon, GPSA president. "We want them and their families to know that we care and stand with them."
GPD retirees lost to cancer include Detective Leigh Anne Price, Sgt. Jeff Clark and Capt. Steve Duncan. Two others also have had to fight cancer. A motorcycle run is being held Sunday, Sept. 15 with registration starting at 11:30 a.m. at 508 W. Main Ave., Gastonia, to help support cancer treatment for retired Sgt. Don Wilbanks. Retired Sgt. Tracy Bess won her fight against breast cancer, and is a participant with the Komen Race for the Cure to be held Saturday, Oct. 5 at 2316 Randolph Road, Charlotte. Bess is a member of WBTV's Team Molly (Grantham) and has appeared in WBTV's promotional ads.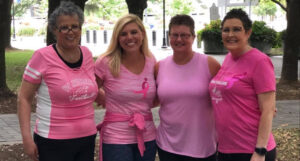 "We are participating with the Susan G. Komen Race for the Cure again this year to raise awareness for our Pink Patch Project," said GPD Records Supervisor Janet Griffin. "We are also participating to show support for our very own breast cancer survivor, Tracy Bess, and in memory of our beloved Leigh Anne Price."
Like last year, the GPSA is selling the department's patch for $5 and new this year is the Special Situations Team patch for $10. Both patches are for sale until Oct. 31 with a portion of the proceeds to benefit Cancer Services of Gaston County. Pink badges are only for police officers and the deadline for purchase was in August. To purchase a pink patch, please call Sgt. Brogdon at 704-866-6884 or Stephanie Jamoulis at 704-866-6880. If you have questions, please send an email to brogdon_nancy@cityofgastonia.com.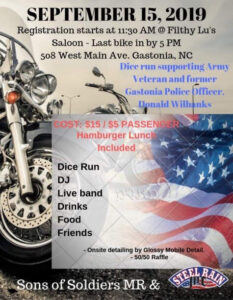 Anyone wishing to participate with the Komen Race for the Cure and Team Molly can register online for $35 at http://tinyurl.com/TeamMolly2019. For GPD participant tracking for Team Molly and for team packets and shirts, please send an email to griffin_janet@cityofgastonia.com no later than Sept. 19. Donations also can be made online at komencharlotte.org.
More information about the motorcycle run can be found online at https://www.facebook.com/events/409510453255205/.