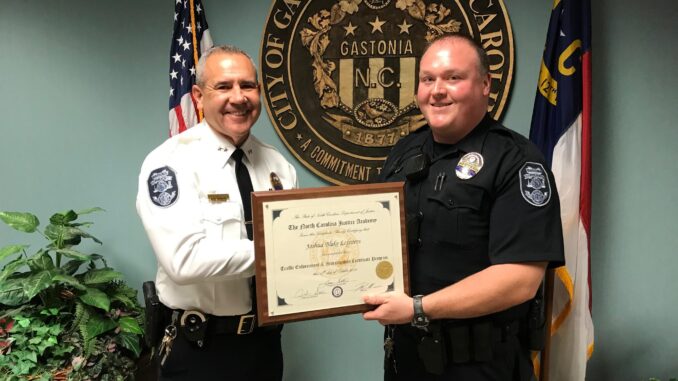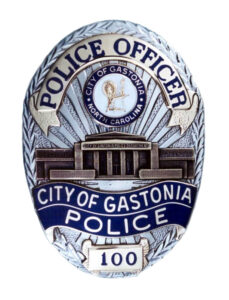 Joshua Blake Lefevers of the Gastonia Police Department recently completed the Traffic Enforcement and Investigation Certificate program at the North Carolina Justice Academy, Gastonia Police Chief Robert Helton has announced. Officer Lefevers is the 322nd officer to receive the certificate since the program's inception in 1999.
The Traffic Enforcement and Investigation Certificate Program is designed to recognize the achievement of law enforcement professionals who have dedicated themselves to making the highways safer for our citizens. Officers, upon completion of the program, will have mastered several important aspects of traffic enforcement and related topics, thus achieving a high level of professionalism for themselves as well as their department.
The Traffic Enforcement and Investigation Certificate Program requires the participants to be sworn law enforcement officers of a law enforcement agency and have at least two years of experience as a full-time officer. In addition, participants are required to have their agency's head approval to participate in the program due to the time spent in efforts to obtain the training needed to complete the program. The certificate program requires 500 hours of training with a focus on traffic enforcement and investigation. A core requirement for the program consists of the following courses: Introduction to Traffic Crash Investigation, At-Scene Traffic Crash Investigation, and Criminal Investigation Through Traffic Law Enforcement, Intoximeter EC/IR II Operator, RADAR, and Standardized Field Sobriety Testing. The core courses consist of 224 hours. All other hours needed to complete the program are traffic-related electives.
The NC Justice Academy, located in Salemburg and Edneyville, develops and conducts training courses for local and state law enforcement professionals. The Justice Academy provides training programs and technical assistance for law enforcement professionals through the five centers of the Training Division: Tactical/Traffic; Investigations; Legal; Management; Commission/In-Service.
The Justice Academy is a division of the North Carolina Department of Justice under the administration of Attorney General Josh Stein. For more information about the Traffic Enforcement and Investigation Certificate Program please contact Jesse A. Kittrell at the Salemburg campus at (910) 525-4151 or jkittrell@ncdoj.gov.