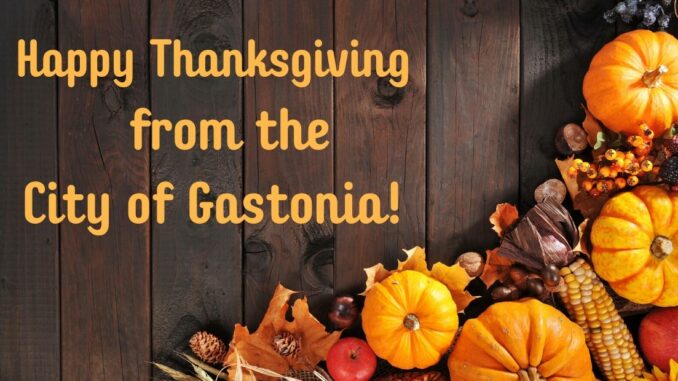 City of Gastonia administrative offices will be closed Thursday, Nov. 28 and Friday, Nov. 29 for Thanksgiving. A number of City departments and services will be affected by the holiday:
Solid Waste:
No curbside collection of garbage or recyclables on Thanksgiving Day.
Thursday collection will be picked up on Friday, Nov. 29.
Friday customers will have garbage and recyclables collected on Monday, Dec. 2.
Monday garbage and recyclables carts will be emptied as scheduled, but no excess household trash will be collected on Dec. 2.
For personalized information about changes to solid waste collection schedules, download the free WasteWise app or use the interactive My Schedule tool on the City's website.
Transit:
No City bus service on Thanksgiving Day.
Buses will run on a Saturday schedule on Friday, Nov. 29.
The Schiele Museum of Natural History:
Closed Thanksgiving Day.
Open 9 a.m. to 5 p.m. Friday, Nov. 29. The Schiele Nature Trail also will be open on Friday – a great place to walk off the turkey and pie.
Planetarium will feature a Saturday schedule with five showings on Friday, Nov. 29.
Parks and Recreation:
Community Centers will be closed Thursday, Nov. 28 through Sunday, Dec. 1.
Skeet and Trap Range will be closed Thanksgiving Day.
City parks will be open each day with regular hours.
Santa Claus will be at the miniature train in Lineberger Park from 10 a.m. to noon on Saturday, Nov. 30.
Santa will be at Rankin Lake Park from 10 a.m. to noon on Saturday, Dec. 7.
Santa Claus also will be part of the Christmas in the City parade and tree lighting on Sunday, Dec. 1 in Downtown Gastonia. The parade and marketplace begin at 4 p.m., with the tree lighting and holiday music to begin at the Rotary Pavilion at 4:45 p.m.