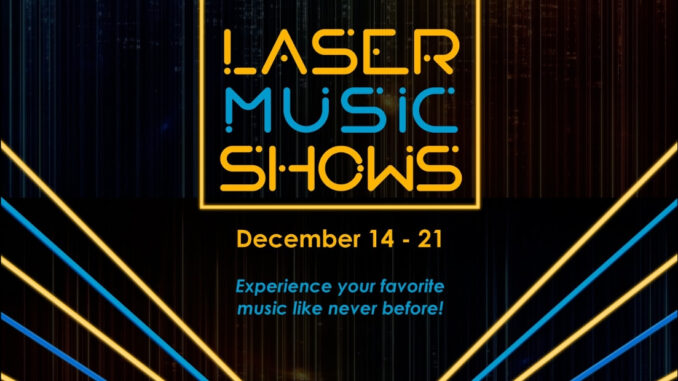 This December, experience your favorite holiday, pop, rock, classic, and country music like never before! Watch as the greatest hits come alive under the planetarium's immersive dome through state-of-the-art laser graphics, 3D atmospheric effects, and live 360 degree lighting.
One of two holiday shows will be offered each evening from December 14-21, with special programs being offered on a limited schedule throughout the week. Special shows feature artists like the Beatles, U2, Led Zeppelin, Metallica, as well as genre-specific shows including pop, country, and rock.
This one-of-a-kind experience is a great way to gather friends, family, colleagues, or church groups during the holiday season for an entertaining and memorable experience. The Schiele's planetarium offers daily programs throughout the year, however the Laser Music Shows, which take advantage of the dome's science-theater capabilities, are an entirely different type of experience for visitors to enjoy.
Tickets can be purchased in advance on The Schiele Museum's website or at the museum. Tickets are $5 per person when purchased in advance and $8 per person when purchased on the day of the show. Please note: Laser Music Shows are not recommended for young children or for individuals with sensitivities to light or sound. For more information, please visit The Schiele Museum's website or follow The Schiele Museum on social media.